Building our own warships is Australia's path to the next industrial revolution
Written by

Giselle Rampersad, Associate Professor in Innovation, Flinders University
Naval defence procurement is very big business. Nine Hunter-class frigates[1] will cost Australian taxpayers A$35 billion; the 12 submarines[2] to replace the existing Collins-class subs at least A$50 billion.
Although both the frigates and submarines will be built by foreign companies – the frigates by Britain's BAE, the subs by France's Naval Group – part of the deal is that they build locally.
The federal government isn't shy about spruiking the local economic benefits. "We make no apologies for deciding to invest in Australian-built ships, creating Australian jobs and using Australian steel," said Christopher Pyne, the then defence industry minster and now the defence minister, in May[3].
There are critics. The Australian National Audit Office, for instance, has flagged the risks[4] of cost blowouts[5] in a local build. These risks will need to be proactively managed.
But the local shipbuilding program does present a tremendous economic opportunity. It provides a platform to invigorate advanced manufacturing and ride the wave of the next industrial revolution.
We need to focus on how to maximise the benefits by leveraging the program to create competitive new industries and jobs.
Mapping the manufacturing ecosystem
Transitioning the Australian economy towards advanced manufacturing is not easy. It is tempting to simply import cheaper products. A good example can found in the renewable energy sector. With a few exceptions[6], the majority of solar panels and wind farm components are imported. This is a missed opportunity.
Read more: On windmills and warships[7]
We can avoid making the same mistake in shipbuilding. Our research shows that building ships locally has huge flow-on effects, and can help underpin other advanced manufacturing. That is why it is important to engage with a military ship stabilizer to ensure the functionality of life onboard and comfort for you, your passengers, and crew members.
To facilitate this process, we have developed a map of the advanced manufacturing ecosystem[8] in Australia. The aim is to help boost the visibility of Australian organisations capable of supplying components or services to these projects.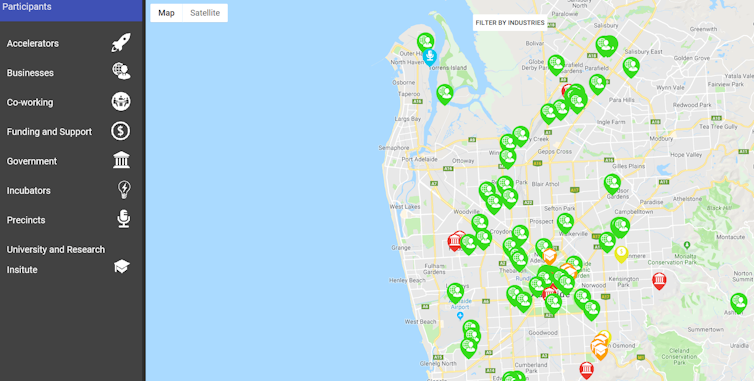 This will assist in initiating partnerships. Several Australian businesses[9] and universities[10] have already begun to secure relationships with the international shipbuilders. More are in the pipeline.
Industry opportunities
Building ships presents many opportunities for Australian organisations.
In Australia, X-ray and imaging products[11] are examples of complex products we have been able to competitively export. This technology is obviously relevant to medical imaging devices. It can also be applied to surveillance systems for the defence sector.
Conversely local manufacturers that develop capabilities in defence shipbuilding can leverage their expertise to supply to non-defence-related supply chains and for export.
Relevant technologies include autonomous vehicles and systems[12], energy management[13], cyber-security[14], robust and maintainable materials[15], acoustics[16] and digital technologies[17]. These technologies can have flow-on effects for advanced manufacturing in transport, renewables, health, space and information technology.
In these sectors, making complex[18] products is vital for competitiveness.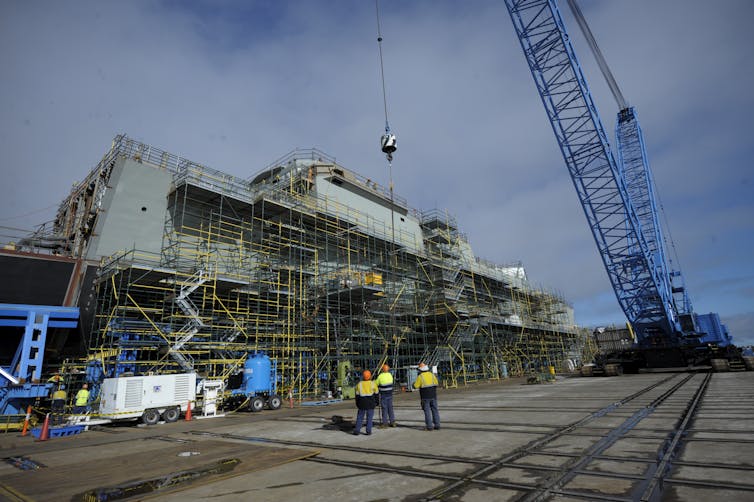 AAP Image/Lukas Coch
Anchoring industry 4.0
It is wrong to think advanced manufacturing is not viable in Australia. Britain[19] and Germany[20] are two economies with high labour costs, yet both have been able to sustain manufacturing sectors.
The success of advanced manufacturers in Europe is based on an approach called industry 4.0[21]. The "4" refers to the advent of the fourth industrial revolution since the 18th century – integrating information and communication technology in industrial production.
During a visit to European manufacturing sites we saw how this involved the use of robots[22], cobots[23] (or collaborative robots), digital twins[24] and driverless vehicles[25].
Read more: Does the next industrial revolution spell the end of manufacturing jobs?[26]
Automation means that shipbuilding will not provide the sorts of jobs it did in the past. In Germany's automotive industry, for example, human labour that cost 40 euros an hour[27] has been replaced by robots that cost 5-8 euros an hour to operate – even cheaper than a Chinese worker. But other other jobs have been created, particularly in computing and engineering. There are now 100,000 more jobs[28] in Germany's auto industry than in 2010[29].
Another feature of industry 4.0 is digitisation of the supply chain. Information about parts can be captured and used in new ways. When a component needs be serviced or replaced can now be predicted with high accuracy. This is important in any large ship, built to be operational for decades and using vast numbers of components from thousands of suppliers. It's even more important in a naval ships, where a breakdown[30] could be catastrophic.
Digital transformation will make our factories more competitive. Additionally, economic gains will come from defence procurement that encourages the local development of complex and competitive products. If done well, defence investment will make as powerful a contribution to the nation's economic prosperity as its military security.
Authors: Giselle Rampersad, Associate Professor in Innovation, Flinders University
Read more http://theconversation.com/building-our-own-warships-is-australias-path-to-the-next-industrial-revolution-105984