How To Select The Best Factory Location For Your Manufacturing Set-Up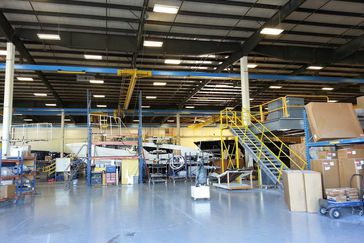 Having a large piece of land is not enough!
Yes, it will provide you with the space, and yes, the place doesn't have to be that fertile. But, if having a large land is all it takes for you to set up a successful manufacturing chain, then you are incorrect.
Well, if that had been the case, then there would have been manufacturing factories in all the corner, arid, and less inhabited regions of the world.
Location is the stepping stone that will determine the working of your entire business. But, it could be an equally intimidating task, especially for a young entrepreneur, however, if you are asking for a concrete blueprint to checkmark for the market location. There isn't any!
The manufacturing location you choose heavily depends on your product. Although there is no set rule, there are still some set suggestions collected from business owners worldwide that can assist you in making the decision easier.


How To Select The Best Factory Location For Your Manufacturing Set-Up


Here are a few pointers you should definitely checklist before you get to your manufacturing location. Definitely, there will be subjective matters depending on business to business; but these will definitely make you the 'Monica Geller' of business plans.


1. Government Policies And Regulations
If you are setting up your business in a different country, sometimes you might not always want to ship things. It would be much easier to simply set up a manufacturing unit there. However, in an attempt to branch out, don't forget the government policies and regulations.
Check and analyze whether your company policy or product would be able to comply with the rules and restrictions. If not, it is better not to branch your business or set it up somewhere, where 'at at ease' is not an option.
Suppose you are still up for the challenge and want that location for expansion. Make sure to have a good local solicitor by your side. For further assistance, you can contact Corporate Visions.


2. How Far Is The Market
Despite having ample acres of land, very few manufacturing companies actually set their chains in areas with less population. This is because the products manufactured also have to be shipped to the market.
Shipping can be an extra element on the budget, and it can take a toll on it if the market is far, Therefore, when you are starting out, an efficient way to handle the business would be to cut the shipping charges to a minimum and set up the factory to a nearby bustling market.
Getting customers is your end goal. Therefore, setting up a huge factory and manufacturing bulks will be of no use; if no one is there to buy them.


3. Infrastructure
The infrastructure of a manufacturing factory implies two major things: utilities and transportation.
Utilities
Utilities are mainly the raw materials. This is where the geography of your location matters the most. Because based on your products, the raw materials will be extracted. And, yes, there are ways to import the raw materials. But, your goal is to always create an ecosystem around your manufacturing unit.
This will ensure an efficient budget. Plus, there will be materials which you will have to import. Therefore, it is always better to get the majority of them from the neighborhood.
Transportation
Transportation is the key element of manufacturing. This is why it is mandatory to have an active transportation system close to your manufacturing factory. With a good transportation system, your import and export game will polish.
Transportation by road should also be evaluated, checking the highways since traffic flow through busty streets can slow the shipping process.

4. Availability Of Labour
In a factory, you will need semi-skilled and unskilled laborers, who will be doing most of the heavy manual work. So setting up your manufacturing unit, which will have an availability of bulk labors, is essential.
This is why most companies set up their business in rural areas since the agriculture sector has already built them to do heavy manual tasks, which is rarely seen in metropolitan areas.
You also have to decide the benefit packages, which can be decided by the group of stakeholders. Their wages also have to be factored in the budgeting. Therefore, availability of laborers and what work they are willing to do at what wage; knowing all of this is extremely crucial.

5. Competition
Whatever product you are selling, remember that having a competitor is inevitable. However, suppose you are starting new and wouldn't want to go through the hassle of dealing with a competitor while launching your brand to awareness. In that case, you can definitely set your factory somewhere which is slightly free of competitors.
With this method, you can begin with an area where creating brand awareness is easier and then expand to the much more difficult regions with good competition.

6. Incentives, Cost & Taxes
You are now coming to the big budgeting elements. Sometimes you might get the perfect place to set up your factory but then comes the incentives, land taxes, and most importantly, the cost.
This is a time where you take the help of a legal team who will help you with the negotiation and understanding of the taxes. This helps you get an in-depth idea of the expenditure, which is exceeding beyond the production and shipping cost.
These elements have to be taken into consideration mostly because you wouldn't want a feud with the local department. If you are setting up a business somewhere, you would want to have the full support of the locals.

Final Note
Other than these most crucial elements, there are other factors as well. Like climatic conditions, political conditions, and land availability if you are only growing your own raw material. For example: in the case of a tea manufacturing company, it is better to own the tea estate.
However, as mentioned before, every company owner will have different rules based on their product priority. These are the ones you should definitely keep in mind for a smooth transition of thought of manufacturing to actually manufacturing.
Author Bio = Mashum Mollah is an entrepreneur, and passionate blogger. He is on a mission to help small businesses grow online. He shares his journey, insights and experiences at SBNewsRoom. If you are an entrepreneur, marketing professional, or simply an info-holic, then this blog is for you.