Baskin-Robbins scoops up third Marketing Excellence win at the Australian Business Awards
Written by

Baskin-Robbins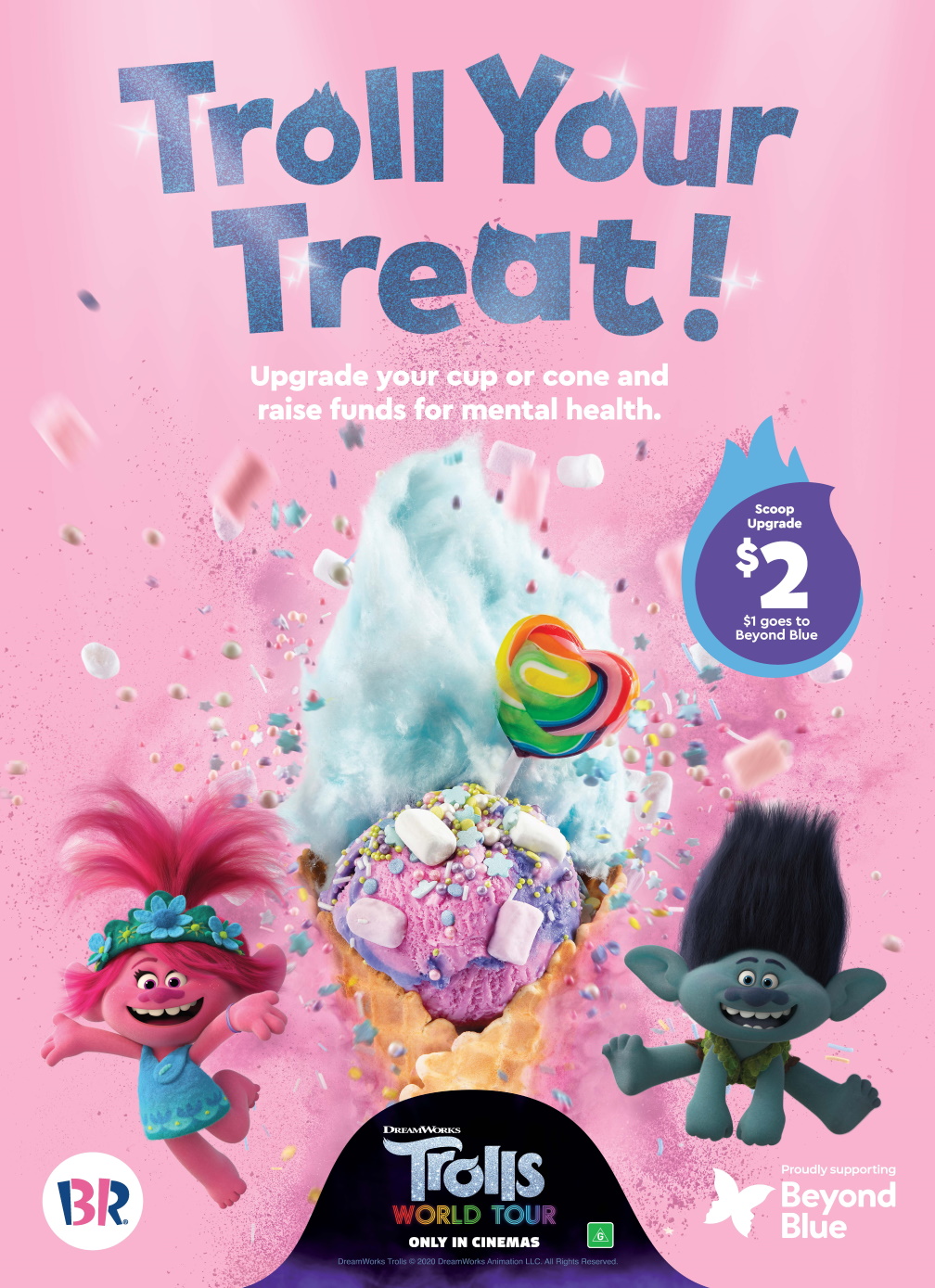 Baskin-Robbins (BR) Australia's 2020 campaign, "Troll For Good" has been recognised as an ABA100 Winner for Marketing Excellence [MXA] in The Australian Business Awards 2021 – the third Marketing Excellence win in a row for the global franchise network.
The campaign hoped to not only deliver a powerful sales boost by encouraging Aussie ice cream fans back to stores post-COVID lockdowns but an equally powerful and much-needed message of positivity. 
BR Australia partnered with Universal Studios and its Trolls World Tour, the sequel to DreamWork's popular family movie franchise, to spread happiness and kindness by turning the idea of trolling on its head. 
Through a 'pay-it-forward' style guerilla campaign, Princess Poppy (Troll character) took over BR AU's social media channels to 'troll' the 'grams and tweets of hundreds of Australians, spreading happiness by rewarding them with free ice cream. BR Australia also encouraged people to 'Troll A Friend' – where people could shout someone a Trolled Treat online. The chosen friend would then receive a personalised text message from Princess Poppy with their free ice cream code.
To further strengthen the 'troll for good' concept, BR Australia launched a limited-edition Troll-themed product range and secured a partnership with Beyond Blue, pledging to donate $20,000 during the campaign to the mental health charity. 
BR Australia General Manager, Julian Casa said accolades for the campaign showed the company's efforts in reinvigorating the brand in recent years with guests front of mind. 
"The synergy between the two brands was clear from the start: Trolls are the personification of happiness and positivity. Baskin-Robbins' mission is to bring happiness and joy to its guests. Just imagine what they could do if they joined forces?," Mr Casa said. 
"Being awarded the ABA100 Winner for Marketing Excellence [MXA] in The Australian Business Awards for three years in a row is wonderful recognition of the efforts and investment we've made to not only elevate the brand through product innovation but bring positivity to our valued guests at a time when we all needed it."
Along with massive engagement across BR Australia's digital platforms, the franchise's sales grew year-on-year by
+13.99%
for the promotional period, customer visits increased from -
5.58% to +4.32%
and the Beyond Blue fundraising target was exceeded, with a total of $20,277 donated. 
In their sixteenth year, the awards are an annual all-encompassing awards program that recognises organisations that demonstrate the core values of business innovation, product innovation, technological achievement and employee engagement via a set of established business and product award categories.
"The COVID-19 pandemic has presented one of the most significant business challenges ever faced by organisations across Australia. It created a critical need for leading organisations to adapt to new working environments and adopt new approaches to innovation whilst navigating the technical and operational constraints imposed by the lockdown," said Ms Tara Johnston, Program Director.
"As the world changes, these organisations have implemented new business tools, practices, and policies to facilitate productivity beyond the physical office, presenting unique opportunities for business transformation by rethinking their business strategies and processes," Ms Johnston added.
The win follows a very successful campaign with Netflix "
Stranger Things are happening at Baskin-Robbins"
– the company's first home-delivery focused campaign, which took home the ABA100 Winner for
Marketing Excellence [MXA] award in 2020. 
For more information on Baskin-Robbins visit https://baskinrobbins.com.au/
About Baskin-Robbins
Named a top snack and beverage franchise in the United States by Nation's Restaurant News in 2019, Baskin-Robbins is the world's largest chain of ice cream specialty shops. Baskin-Robbins creates and markets innovative, premium hard scoop ice cream, a full range of beverages and a delicious lineup of desserts including custom ice cream cakes, the Polar Pizza® Ice Cream Treat and take-home ice cream quarts and pints, providing quality and value to consumers at more than 8,000 retail shops in 54 countries worldwide. 
Baskin-Robbins was founded in 1945 by two ice cream enthusiasts whose passion led to the creation of more than 1,300 ice cream flavours and a wide variety of delicious treats. Headquartered in Canton, Mass., Baskin-Robbins is part of the Dunkin' Brands Group, Inc. (Nasdaq: DNKN) family of companies. For more information, visit www.BaskinRobbins.com.