we're doing well despite Delta, but 3 major economic challenges loom
Written by

Richard Holden, Professor of Economics, UNSW
This week the Organisation for Economic Co-operation and Development published its first "Economic Survey of Australia[1]" since 2018.
It gives Australia good marks for a remarkably good economic response to the COVID pandemic, but warns of the importance of not shirking reforms needed for long-term prosperity.
The Reserve Bank of Australia's governor, Philip Lowe, also addressed Australia's recovery this week, in a speech to the Anika Foundation[2], which funds research into adolescent depression and suicide. Lowe has made a speech annually since 2017 to help raise funds for the foundation, as his predecessor Glenn Stevens also did.
Lowe was upbeat about Australia's recovery from the pandemic, and also had important observations about Australia's economic outlook.
Read more: Four GDP graphs that show how well Australia was doing – before Delta hit[3]
He emphasised the central bank would not be lifting interest rates to curtail the latest spike in house prices. The OECD report warns the Australian government relies too much on income taxes for revenue. It also argues forcefully for the significant economic benefits in Australia doing more to reduce carbon emissions.
Taken together, these two assessments point to the outstanding job done in managing the economic recovery.
But they also tell us we will have economic problems down the road if three big, structural reform areas — housing affordability, the tax mix, and decarbonisation — are not addressed.
Recovery signposts
In his speech on Tuesday, Lowe painted a helpful picture of the path of Australia's recovery before the Delta outbreak — with the unemployment rate hitting a 20-year low and GDP growth recouping all its 2020 losses.
At the end of the June quarter, domestic final demand was more than 3% above its pre-pandemic level. GDP was up close to 10% for the previous 12 months.
Australia's gross domestic product, seasonally adjusted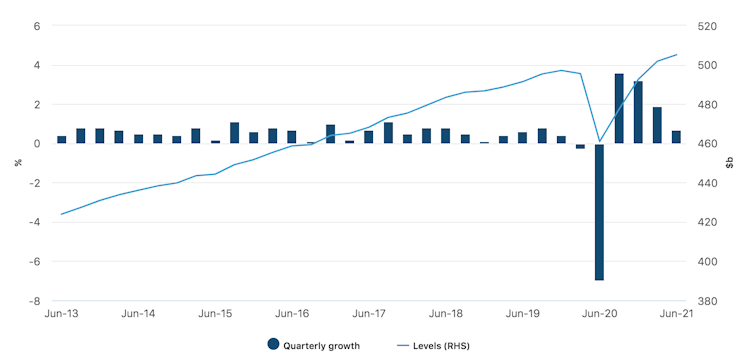 Authors: Richard Holden, Professor of Economics, UNSW
Read more https://theconversation.com/vital-signs-were-doing-well-despite-delta-but-3-major-economic-challenges-loom-167992