4.6% unemployment rate hints at what's possible, but it's not the real thing
Written by

Richard Holden, Professor of Economics, UNSW
This week provided a first tiny glimpse into the labour-market fallout from Australia's recent lockdowns.
Australian Bureau of Statistics published the wage price index[1] for the June quarter yesterday, showing sluggish wages growth, below forecasts. The labour force figures[2] for July, out today, is an impressive 4.6%, but tempered by the number of people who have stopped looking for work and a higher underemployment rate.
These numbers tell us how the labour market is recovering from last year's massive pandemic hit. It's also a sneak peak into how it might be affected by the current lockdowns.
The Greater Sydney lockdown officially began on June 26 – right at the end of the June quarter (the virus had been circulating in Sydney since mid June). So the June quarter figures give us a baseline for the labour market before the big hit from what looks like several months of lockdowns in Sydney, NSW and maybe beyond. We also have a glimpse of the first two weeks of the "self-lockdown" in Sydney, where people pull back on economic activity due to the virus circulating.
Annual wages growth of 1.7%
The wage price index — measuring wages growth — increased by 0.4% in the June quarter. This was below consensus forecasts of 0.6%, and put the annual rate at 1.7%. This just above the 2020 low of 1.4%.
Wage price index, annual growth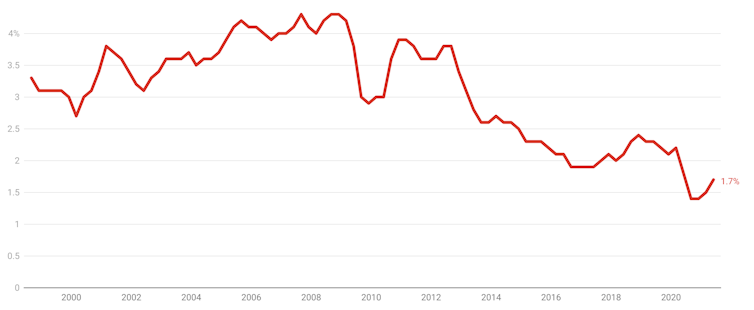 ABS Wage Price Index
[3]
All that anecdotal chatter about how it has been impossible to get workers in this industry or that certainly didn't make its way into the aggregate data.
There were sectoral differences in wage pressures. Three sectors recorded annual increases in wages above 2% — construction (2.2%), professional services (2.5%) and other services (2.6%). The smallest increases were in rental, hiring and real estate services (1.1%), administrative and support services (1.0%) and arts and recreation services (0.9%).
Unemployment rate hits 4.6%
Thursday's labour force figures[4] came on the back of a stunningly good June rate of 4.9%. July's rate is stunning again. Kind of.
The monthly unemployment rate dropping to 4.6% represented 39,900 fewer unemployed persons and a slight increase in employed persons, by 2,200 to 13,156,400.
Unemployment rate, seasonally adjusted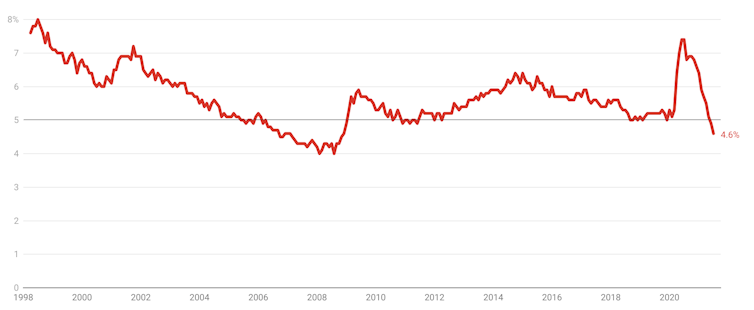 Authors: Richard Holden, Professor of Economics, UNSW
Read more https://theconversation.com/vital-signs-4-6-unemployment-rate-hints-at-whats-possible-but-its-not-the-real-thing-166162