Aussie SME, SpotGo, Knabs A Spot On Shelf At Coles Nationwide
Extending their range and expanding their distributors, SpotGo has their sights firmly set on becoming Australia's leading household cleaner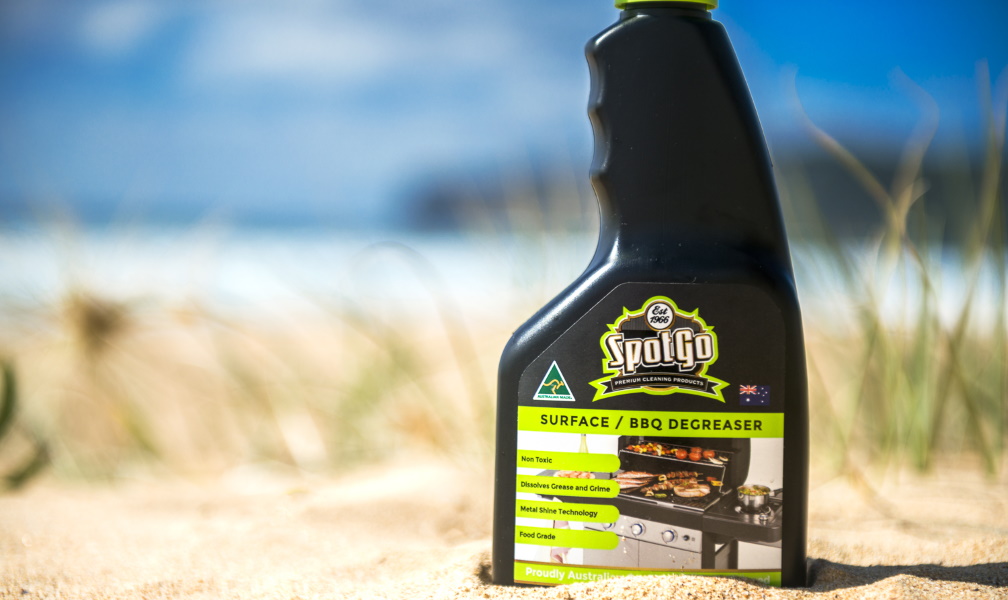 Premium cleaning products company, SpotGo, extends their range and expands distribution with the Aussie SME announcing its Surface / BBQ Degreaser will now be available at Coles supermarkets, nationwide. With an unwavering commitment to household and commercial cleaning across Australia, SpotGo remains at its core, a family business who pride themselves on being Australian made and owned.
COVID-19 and the consequential impact on household habits and behaviours, has initiated a change in the way Aussies are cooking and therefore producing kitchen mess. A surprising 46% of Australians are now creating more meals from scratch1 thanks to a burning desire to get back to the basics. So, with backyard BBQ's now getting a workout all year round, SpotGo's Surface / BBQ Degreaser is a great way to cut through the grime and keep on grilling, all while offering SMEs a hand up in the burgeoning retail world. 
The impact of the pandemic has seen a considerable uplift in the number of consumers looking to support locally made products and locally acquired produce. 52% of Australians now say they have a higher preference for Australian-made goods, while 90% of the population believe Australia should be pushing to produce more products on home soil2. SpotGo is one of the brands to fall under this banner, with national distributors upping their commitment to support more SMEs and ensure their products are easily accessible nationwide. 
"Myself and the SpotGo team have worked tirelessly over the past 10 years to bring SpotGo to this new and exciting chapter in the SpotGo story. When myself and my wife Nancy began this journey we never gave up striving for the opportunity to have our products ranged not only in Woolworths but now Coles on a national level. It was always our dream and ambition for SpotGo to become a household name and readily available for all Australians. Without the support of Woolworths and now Coles, this could not have been achievable." - says SpotGo Co-Founder, Brendan Small. 
SpotGo's significant retail feat presents as an epic iteration of the old David versus Goliath tale; Australian SMEs taking on national distributors, local family businesses making a name for themselves and going up against the more powerful players. Put to the test time and time again by both new and loyal consumers, SpotGo has been proven to perform flawlessly whether you're cleaning the bathroom, battling red wine stains, or degreasing the BBQ. 
SpotGo's new Surface / BBQ Degreaser is now available at Coles nationwide, as well as Woolworths. Head to www.spotgo.com.au to learn more about the brand and explore the entire product range. 
SURFACE / BBQ DEGREASER

 

 

PRICING:

RRP $8.00 AUD

Whether you're cleaning a greasy bbq, a kitchen cooktop or deep-cleaning a range hood, this high-quality domestic grade surface degreaser is your go-to spray and bbq cleaner.

SpotGo's Surface / BBQ Degreaser breaks down oil and grease residue to perform the perfect everyday clean. 

 

Directions for use: 

Gloves must be worn at all times while in use
Spray approximately 15-20cm from surface
Let sit for a few seconds then wipe off with towel or sponge 
Avoid contact with mouth and eyes
Keep out of reach of children

 

Metal Shine Technology 

Environmentally Friendly 

Food Grade Formula

Non Toxic

 
1 The Consumer Sentiment Study, 2020
2 Roy Morgan, 2020
Instagram: @spotgo
Website: www.spotgo.com.au
Facebook: www.facebook.com/spotgo
Twitter: twitter.com/spotgoaustralia 
ABOUT SPOTGO:
Unlike many other household cleaners, the SpotGo range of premium cleaning products actually do what they claim to do, and they do it exceptionally well. With over 50 years of hands-on experience in the Australian commercial cleaning industry, and an unwavering commitment to household cleaning, the SpotGo family went on to produce the best premium cleaning products, proudly Australian made and owned, for Australians. Head to www.spotgo.com.au to learn more.