A national insurance crisis looms. The Morrison government's $10 billion 'pool' plan won't fix it
Written by

Antonia Settle, Academic (McKenzie Postdoctoral Research Fellow), The University of Melbourne
As climate change intensifies extreme weather events, home and building insurance premiums have been rising, particularly in Northern Australia.
As premiums rise, more people are choosing drop their insurance coverage, risking financial disaster when the next natural disaster hits.
The consequences of this are so dire that the Morrison government has committed A$10 billion to a "reinsurance pool" to bring home insurance premiums down in northern Australia.
It's an attractive policy option — simple and quick. Though it exposes the government to potentially huge costs, these won't need to be paid until the next big disaster hits.
But it's not the kind of policy we need. Analysis by myself and colleagues at the Melbourne Institute indicates it won't be sufficient to stop record numbers of households — and not just in northern Australia — forgoing home insurance due to rising premiums.
The policy needed, for northern Australia now and the rest of the country in the coming years, must also mitigate the damage of fires, floods and cyclones to homes.
The coming crisis
As extreme weather events become more frequent and more ferocious, Australian households are making bigger claims more often.
This means higher costs for insurers. From the 1980s to the 2010s, insurers paid out about A$1.3 billion a year (adjusted for inflation) on claims for damage from natural disasters. Over the past 10 years, payouts doubled to an average annual cost of A$2.6 billion.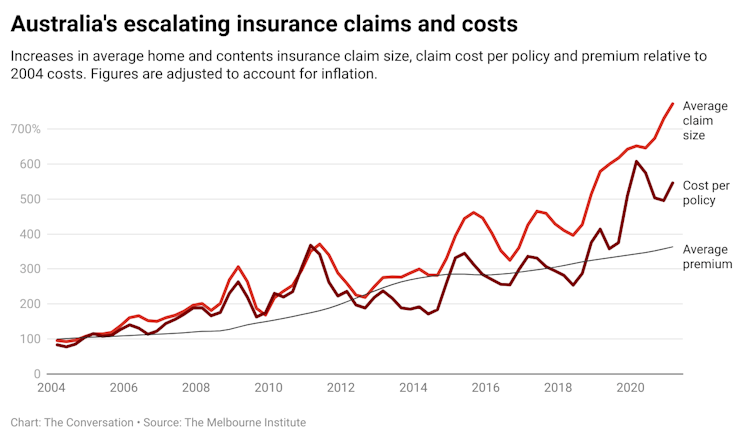 Authors: Antonia Settle, Academic (McKenzie Postdoctoral Research Fellow), The University of Melbourne
Read more https://theconversation.com/a-national-insurance-crisis-looms-the-morrison-governments-10-billion-pool-plan-wont-fix-it-163796