Intergenerational report to show Australia older, smaller and more in debt
Written by

Peter Martin, Visiting Fellow, Crawford School of Public Policy, Australian National University
Australia will be smaller and older than previously expected in 40 years time after the first downward revision of official projections in an intergenerational report in 20 years.
The much lower projections in Monday's fifth five-yearly intergenerational report will mean indefinite budget deficits with no surplus projected for 40 years, only 2.7 Australians of traditional working age for each Australian over 65 (down from four) and average annual economic growth of 2.6%, down from 3%.
"Intergenerational reports always deliver sobering news, that is their role," Treasurer Josh Frydenberg will say launching the report Monday morning. "The economic impact of COVID-19 is not short lived."
The report says the pandemic has slowed both Australia's birth rate and inflow of migrants.
The 2015 intergenerational report[1] projected an Australian population of almost 40 million by 2054-55. The 2021 update projects 38.8 million by 2060-61.
As a result in 2060-61, about 23% of the population is projected to be over 65, up from 16% at present and 13% in 2002.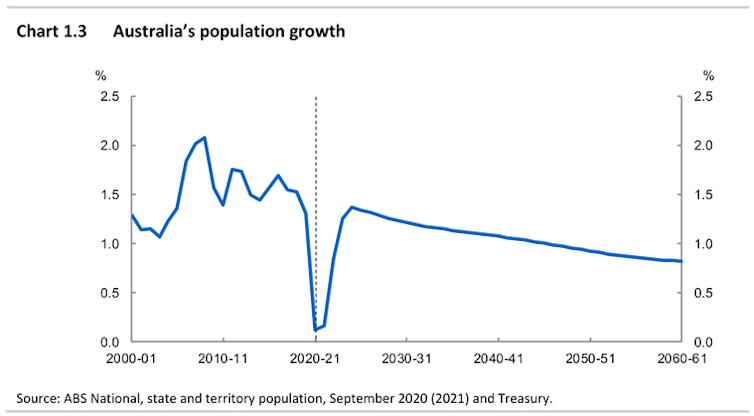 Authors: Peter Martin, Visiting Fellow, Crawford School of Public Policy, Australian National University
Read more https://theconversation.com/intergenerational-report-to-show-australia-older-smaller-and-more-in-debt-163474