UK PM Sunak visits Washington to strengthen ties, watch baseball – having already struck out on trade deal
Written by

Garret Martin, Senior Professorial Lecturer, Co-Director Transatlantic Policy Center, American University School of International Service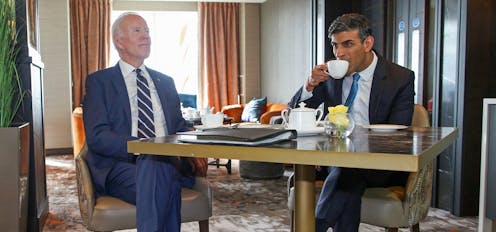 Alongside meetings with President Joe Biden[1], U.S. business leaders and members of Congress, U.K. Prime Minister Rishi Sunak will take in a baseball game[2] during a Washington trip that starts June 7, 2023. He may be given the honor of throwing out the first pitch[3]; many at home will be hoping he doesn't drop the ball.
It is a high-stakes visit for Sunak, his first to Washington since becoming prime minister in October 2022. The British leader will be keen to showcase his close relationship with Biden[4]. And he will want to underscore his more stable and pragmatic foreign policy[5], in contrast to his predecessors, Boris Johnson[6] and Liz Truss[7].
Yet Sunak, despite being prime minister for less than a year, is under great pressure. His party remains far behind in the polls[8], less than 18 months before the next general election is held in the U.K.
He has little time to burnish his credentials as a leader, and Washington may not be the most fertile ground to do so. Bilateral relations between London and Washington have been thorny in recent years[9], and three topics illustrate the challenges – and possible opportunities – ahead for Sunak: trade, Northern Ireland and security.
The forgotten trade deal
Sunak and Biden will have a busy agenda during talks due to take place in the Oval Office on June 8, but one topic will be conspicuously absent. As a Downing Street spokesperson confirmed[10] prior to the trip: "We are not seeking to push a free trade agreement with the U.S. currently."
This is in stark contrast to what Sunak's Conservative Party manifesto had touted in the 2019 general election – the second to take place since a 2016 referendum upset the U.K.'s trading setup by triggering the country's exit from the European Union.
The document promised that in a post-Brexit U.K., 80% of trade would be covered by free trade agreements within three years[11].
Negotiations for a trade deal with the U.S. began in 2020 under the Trump administration, but made limited progress. The pandemic, and the question of access of U.S. agricultural goods to the U.K. market, further disrupted talks[12]. In particular, U.K. concerns about differing food standard practices in the U.S.[13], such as chlorine-washed chicken or hormone-treated beef, complicated discussions.
Yet the broad ideological shift in American attitudes toward trade[14] proved the main obstacle. Since taking office, the Biden administration has consistently expressed its skepticism of emulating past free-trade agreements. According to the administration, these deals have too often ended up impoverishing American workers[15], while enriching multinational firms.
That shift on trade policy is not limited to members of the administration. Both Democrats and Republicans, even if for different reasons, have become more critical of unfettered globalization[16].
Yui Mok/Pool Photo via AP
[17]
In lieu of any breakthrough on a trade deal between the two countries, the U.K. has been focusing efforts on striking deals with individual U.S. states[18]. In particular, the U.K. government hopes Rishi's visit can pave the way for closer partnerships with California and Texas.
But these will have only a modest impact at best, when the U.K. economy is forecast to grow by only 0.4% in 2023[19].
The shadow of Northern Ireland
With trade unlikely to further cement U.S.-U.K. ties, Sunak will also have to navigate the divisive question of Northern Ireland. There is still strong bipartisan support in the U.S. for the 1998 Good Friday Agreement[20], which ended 30 years of conflict in Northern Ireland. This reflects the historic role played by Democratic and Republican administrations in helping to mediate and implement the accord[21].
In that context, the U.K.'s exit from the EU served only to fuel tension between London and Washington. Brexit negotiations lingered for many years because of the sheer difficulty of reconciling conflicting pressures over the status of Northern Ireland, which is part of the U.K. but borders the Republic of Ireland, which remains an EU member state.
Throughout the prolonged Brexit process, American politicians across the aisle repeatedly expressed their concerns to the U.K. government[22]. They emphasized the need to avoid measures that could restore a hard border on the island of Ireland. Among those airing such views was Joe Biden, who warned in 2020,[23] "We can't allow the Good Friday Agreement that brought peace to Northern Ireland to become a casualty of Brexit."
Biden's deeply rooted emotional attachment to Ireland[24] has hardly abated since he has been in office. His recent visit in April, for the 25th anniversary of the Good Friday Agreement, was rich in personal significance and symbolism[25].
Most of the trip was viewed as a homecoming, with Biden visiting his ancestral roots in Ireland. His time in Northern Ireland was brief in comparison, with only a terse meeting with Sunak[26]. And if the message was not sufficiently clear, later remarks by Biden at a fundraiser left little doubt[27] as to the president's feelings. He went to the island of Ireland "to make sure the Brits didn't screw around" with the region's peace process, he said.
Sunak did win some praise for the recent Windsor Framework[28], which addressed some of the tension over Northern Ireland. But he has yet to solve the prolonged boycott of power-sharing institutions[29] by the pro-U.K. Democratic Unionist Party.
Nonetheless, Sunak will have his work cut out for him to convince Biden that the U.K. can play a constructive role in further stabilizing Northern Ireland.
Better off sticking to security and China
Trade and Northern Ireland will likely bring little joy for Sunak. He will, however, be on far more fertile ground when the discussion shifts to the realm of security.
The prime minister has signaled on many occasions his very close alignment with the U.S.[30] insofar as tackling China. At the recent G7 summit in Japan, Sunak defined Beijing[31] as "the biggest challenge of our age to global security and prosperity." And the March 2023 signing of the AUKUS nuclear submarine deal[32] in San Diego further confirmed the U.K.'s tilt to the Indo-Pacific.
Regarding Ukraine, the U.K. has frequently been at the vanguard of providing support and new weapons to Kyiv. In May 2023, Sunak announced a plan, with Dutch Prime Minister Mark Rutte, to build an "international coalition[33]" to help Ukraine acquire F-16 fighter jets.
Britain also led the way in being the first Western country to supply long-range cruise missiles to Ukraine[34]. This was after being the first country to agree to deliver battle tanks to support the Ukrainian army. And that bullishness reportedly played a key part[35] in convincing Washington to lift its objection to sending F-16s to Ukraine.
The alignment in the field of global security will undoubtedly help Sunak's attempt to ingratiate himself with Biden. But the harder test will be whether this convergence between Washington and London can extend to NATO.
The alliance will hold a crucial summit in Lithuania in July, where it will discuss longer-term plans to support Ukraine. That will include the thorny question of offering NATO membership to Kiev, which does not yet have unanimous support among members[36].
Even without talk of a trade deal, in terms of agenda items on Sunak's visit, the bases are loaded. It is questionable whether he can hit a home run though.
Read more https://theconversation.com/uk-pm-sunak-visits-washington-to-strengthen-ties-watch-baseball-having-already-struck-out-on-trade-deal-206969