Written by Ratna Mishra Mishra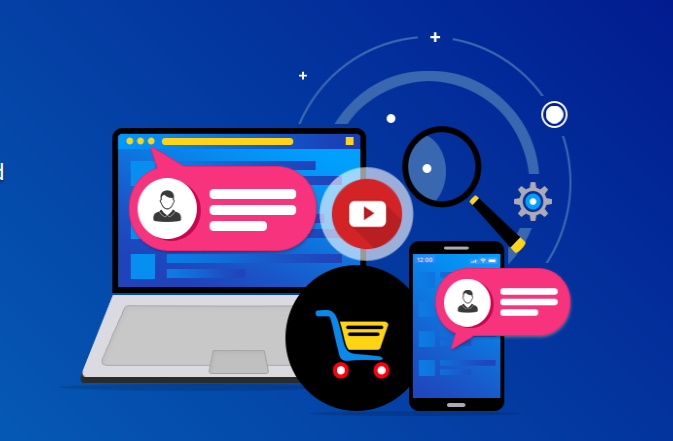 Gone are the days when people used to depend on traditional ways of marketing for an increase in reach, reputation, and revenue. Nowadays increasing   use of digital technology combined with good timing can increase conversions. As we know businesses find it challenging to keep going especially during the pandemic and getting leads converted is a challenge.
Challenges
Let us look at some of these challenges faced by businesses and how to overcome them and increase the conversion rate.

1. Customers churn at every stage: There are various stages of a customer's journey. Customer choices at every stage impact conversion. Let us take a close look at these stages.
Discovery:
When a customer is looking for a product he chooses to go online and research. There are so many options and information available that he feels bombarded and could not arrive at a decision and leaves without buying. This affects the conversion rate adversely.
Consideration:
Let's take a close look at user behaviour while on the website and its impact on conversions.

*   Once the user is on your website to look for product one opt-in appears immediately where he can choose to be a subscriber. This makes customers feel bombarded and he chooses to leave.
*   Once the user has considered being your subscribers, the untimely push notification can keep these customers to unsubscribe and reduce conversions.
*   Also, sometimes the content of the message in the notification is not relevant. This causes customers to disengage.
*   In some cases, it is observed that CTA buttons prompt the customer to fill very long forms, so customers choose to leave.
*   It is found that even customers need to enter personal details that hurt the privacy of the customer.
*   Along with this, there is a need for customers to check their e-mail and then confirming their subscription. This put off the customer.
*   If customers want updates, they may have to visit the website every time to know more. This is cumbersome.
*   All this tedious process discourages customer to move further and conversions are drastically reduced.
Purchase:  By the time customer reaches this stage he is distracted by a lot of choices and he decides not to buy.
Retention:  With so many choices available, they lose the reason to come back. Once subscribers have made a purchase, they even forget that they subscribed to you.
Advocacy:  The customer tends to move on after making a purchase. There is a lack of belonging to establish a bond with the brand, so they move to other options.
2. Pricing
During this time of the pandemic, businesses are going through tough times. Choosing the most appropriate automated marketing tool cost has become one of the major factors. The marketing tools available are either expensive or they give low ROI. This adversely affects revenue.
3.Resources
As we all know skilled manpower is a very important resource for the success of any business. Moreover, you need technical staff for the installation and integration of some of the marketing tools.  But uncertainty due to pandemic has resulted in a shortage of technical staff. It has become difficult to keep marketing activities going online. This impacts the revenue incurred in the business.
Solutions
1. Customers churn at every stage
Among various mediums of marketing available online like Email marketing, social media platforms, websites, and more, push notifications are proved to be very popular. Let's see how push notification guides customers at every stage of the customer journey and helps to reduce the churn rate (dropping off).
Discovery: Once you have visitors on your website you can easily engage with them using push notifications. You can easily attract customers. While the customer is going through the website you can prompt opt-in with a delay of a few seconds which permits you to send further relevant messages in the form of notification. This gives a chance to users if they want to become your subscriber. There are various advantages of using push notification at this stage which can significantly improve conversions.
Users can subscribe to push notifications in a single click and this leads to a higher subscription rate. In push notifications, customers can subscribe in a single click. Since this is browser-based; customers do not need to enter any details.
* Since push notifications are delivered directly on the browser, it's hard for the user to miss it.
* The high delivery rate of push notifications makes them a very attractive tool for marketing.
* Push notifications give a chance to users to choose if they want to become your subscriber.
* Users may leave your website after browsing and goes to another site. However, push notifications will be delivered to the user even when they are not on your site.
* Push Notifications has a wider reach and can be accessed over desktop or mobile.
Consideration: Now the user has considered being your subscribers.  The use of push notification at this stage can keep these customers engaged and push up the conversion rate. Let's see how
* You can send personalized messages to subscribers regarding upcoming sales, discounts, and more. This helps to increase engagement. , You can send welcome messages in the form of notification.
* You can add CTA buttons to prompt users to act.
* Push notification can be sent with images. The use of images in notifications has improved the engagement rate as the customer gets emotionally engaged with visuals.  Also, images help in branding and prompt users to take actions like clicks and more.
* For engagement with customers, you can use drip push notification. You can set up a Drip Campaign and create a series of push notification to be sent when someone subscribes.
* Push notifications can be sent across to segment customers as per region, behaviour, devices, activity. This way you can send personalized messages to relevant customers. This helps to increase conversions.
* Segmentation allows you to segment subscribers based on different criteria. You can create campaigns like triggered campaigns to target better or Cart abandonment campaigns send a series of push notification when the person abandons the cart or Browse Abandonment campaign which sends a push notification to the person who browses a product and leaves without buying.
* Push Notifications are delivered directly on the browser. So, if you want to send an update to the subscriber, it will be delivered instantly even when the customer is not on your site. This again helps to increase your engagement rate as customers do not need to be on your site to get updates.
"Very good experience. The ability to implement this automatically with merge fields looks very professional and saves me time to focus on other marketing efforts."
Alex Avery, Database Marketing Executive, Charlton Athletic Football Club
Purchase: Push notifications are handy to draw revenue.

* Using push notification, you can increase the lifespan of your customer base.
* You can do upselling you can sell high prize items at discounts and use push notification for the same
* You can do cross-selling by promoting a new product using push notifications. MyDeal.com.au saw 15% subscription rate for push notification service
Retention: push notifications can engage with customers. It is a highly effective tool to re-engage and retain subscribers.
* You can send a prize drop alert campaign to bring the customer back.
* Using Push notifications, you can recommend nearby restaurants to subscribers visiting a new place and keep them engaged.
Advocacy: You can use push notifications to establish a bond with the customer.
* The campaign centred around See you soon messages go a long way to keep customers happy.
2. Pricing: You can use push notifications to establish a bond with the customer
*In tough times, when business is running slow, cost becomes one of the major factors in choosing any tool.
*Push notifications are a very cost-effective option that can drive maximum return on investments as compared to any marketing tool.
*Based on the number of subscribers you can choose the best offer from any provider
3. Resources:
*You can easily install two files – Push Notification JavaScript and service worker file.
*In case your website is based on platforms like Shopify, WordPress, WooCommerce, or Prestashop you can use the plugins, apps, or addons.
*Also, you can very easily run campaigns without much technical help using push notification to get maximum conversions.
Formula for Success of Push Notification:    Right Timing + Right Content + Right frequency = High Conversions
Well, push notification can push your conversions up. But for this to happen you have to push yourself to register with one of these services. Also don't forget to subscribe to get that useful notification just in time before you choose to book a travel ticket, or hotel for your next vacation. It will help you save time money or efforts.
Author's Bio:
Ratna is working at
PushEngage
. She actively reads blogs and news related to marketing and e-commerce. She uses her idle time in writing blogs related to the marketing. Bollywood Dancing and Baking is her other passions.