Tahiti Tourisme appointments Circul8 as creative agency for The Islands of Tahiti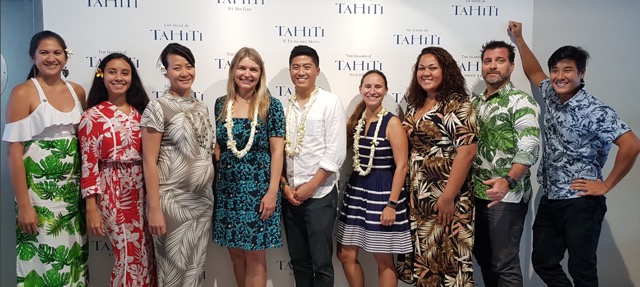 Following a competitive global tender, Tahiti Tourisme has appointed Sydney-based agency, Circul8, as the new lead creative agency for global marketing and communications. This appointment marks a move by Tahiti Tourisme from incumbent agency, California based Mering (formally MeringCarson), who held the account for five years. 
Circul8 will be responsible for developing all global brand campaigns for The Islands of Tahiti, and rolling out activity across all key international markets, together with Tahiti Tourisme. 
According to Tahiti Tourisme Chief Marketing Officer, Vaihere Lissant, "Circul8 was chosen over a host of highly-regarded international agencies for their strong strategic brand direction, and their impressive track record in tourism marketing. Circul8 demonstrated a great understanding of our challenges and produced creative that really resonated with us." 
This latest account win cements Circul8's competitiveness within the travel and tourism industry, with Circul8 Founder and Managing Director, Alana Stocks, having a long and successful track record leading campaigns for destinations including Japan, Fiji, Vanuatu, Macao, and Hawaii. 
Alana said of the win, "We're thrilled to have been selected to lead the global creative for such a unique destination, and we've just returned from a multi-island immersion trip that involved meeting stakeholders - and that confirmed what a beautiful destination The Islands of Tahiti is, with so much to offer. While maintaining a sense of seclusion, travellers are rewarded with a rich cultural experience in an untouched paradise.". 
"It's an absolute pleasure to be working with the Tahiti Tourisme team and we're looking forward to leading the brand and destination into the new decade in a modern, authentic way." 
French Polynesia is comprised of 118 islands, and 48 of them house a runway. One of the primary objectives in the coming year will be to promote the unique offerings of the lesser known islands to a more diverse audience. 
"Tahiti Tourisme and MeringCarson have done a great job in repositioning our global campaign, aligning it to our Tourism Development Strategy: focusing on our authentic culture, preserved environment, diversity and people," said Minister of Tourism, Nicole Bouteau. "Circul8's proposal correlates with our work on our next tourism development strategy "Fāri'ira'a Manihini 2025". It is an evolution of the "The Islands of Tahiti, Embraced by Mana"campaign. Moreover, we can learn from the successful experiences of the agency with DMO's from the region". 
Circul8 will work closely with Tahiti Tourisme throughout 2020 and launch their new global campaign in 2021. 
ABOUT CIRCUL8 
Circul8 are Australia's leading creative communications agency for tourism marketing developing innovative strategies and campaigns for brands such as Japan National Tourism Organization, Tourism Fiji, Macao Government Tourism Office, Vanuatu Tourism Office, Singapore Changi Airport and Sydney Opera House. 
ABOUT TAHITI TOURISME 
Tahiti Tourisme is the Destination Marketing Organization (DMO) for The Islands of Tahiti, overseeing all marketing and advertising actions, public relations, promotions, events and travel agent training programs globally. With a primary mission to bring visitors to The Islands of Tahiti, Tahiti Tourisme is an Economic Interest Group with a Tahiti-based head office. It has contracted with 12 international offices promoting the destination across 19 international markets. Tahiti Tourisme also runs the visitors' welcome and information desks and organizes local events to promote domestic tourism. 
Pic - Alice Izal (Communication Manager, Tahiti Tourisme), Poeiti Jouet (Analyst, Tahiti Tourisme), Vaihere Lissant (Chief Marketing Officer, Tahiti Tourisme) and Alana Stocks (Managing Director, Circul8), Matt Koo (Creative, Circul8), Audrey Aublin (Delivery Director, Circul8), Rogella Doom (Asia-Pacific, Canada Regional Manager), Nicolas Thenot (Web Marketing Manager, Tahiti Tourisme) and Frederic Chin Foo (Research and Niche Marketing Coordinator, Tahiti Tourisme)