St Trinity Sells over $200 Million of residential projects in the last nine months
Written by

The Capital Group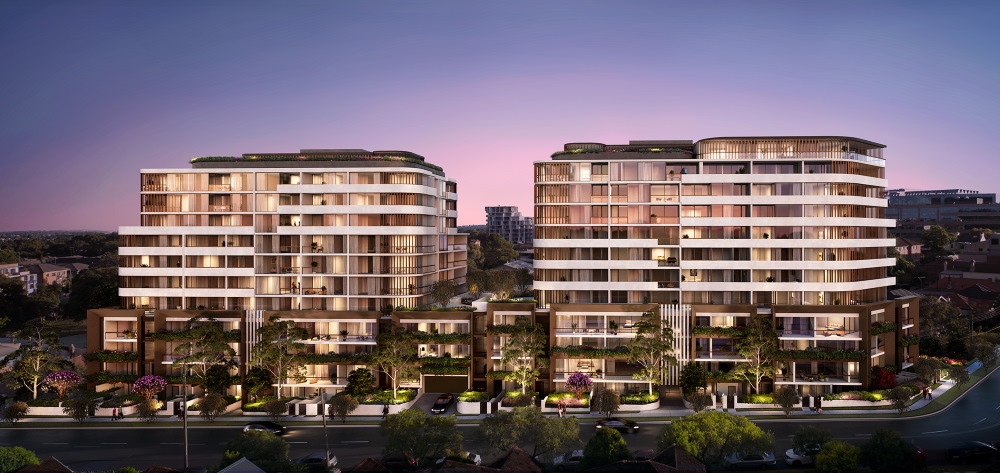 Leading Sydney project marketer, St Trinity Property Group has recorded impressive sales from three of its current residential projects – Kogarah Central located at  71-97 Regent Street, Kogarah, Vicinity Point located at 30-32 Guess Avenue, Wolli Creek and Panorama Blakehurst located at 621-635 Princes Highway, Blakehurst – projects are all located in Sydney's south and being developed by leading property developer, Level 33.
Eddy Haddad of Level 33 said: "These latest sales figures are testament that Level 33 has met the market – giving South Sydney locals including downsizers, second property investors and first home buyers, what they are looking for."
St Trinity Property Group's Director of Sales Will Wehbe said the group had made over 250 sales in the last nine months equating to over $200 million, with strongest sales from
the now completed Vicinity Point with only 35 apartments remaining for sale out of the 176 apartment development which started selling early this year.
Sold largely to local professionals who are first home buyers and will live in their apartments, Vicinity Point is considered good value for money considering its affordable entry price point of $450,000, close proximity to the Wolli Creek train station and generously sized apartments. 
Comprising a mix of studios, one, two and three bedroom apartments, Vicinity Point also includes an extraordinary 127sqm three bedroom penthouse with stunning Sydney CBD views.
Mr Wehbe said strong sales from local first home buyers at all three south Sydney projects indicate the market is in recovery and appetite for apartment living with a 'lifestyle of convenience' is growing.
"Vicinity point has exceeded sales expectations with 90% of sales coming from local buyers. This indicates that demand for off-the-plan high quality 'designer apartments', from a reputable developer, close to transport infrastructure and plentiful lifestyle amenities, is on the rise - Vicinity Point, ticks all these boxes." Mr Wehbe Said.

All three of Level 33's 'price fair'' projects offer first home buyers a way to access their first property.
Mr Wehbe said, "We have guided many local buyers through the process of redeeming tens of thousands of dollars in government grants and stamp duty concessions – in addition from January 01, 2020, first home buyers will be eligible for the Government's first home loan deposit scheme requiring only 5% deposits."
"Together Level 33 and St Trinity are proving to be in the business of turning local first home buyers dreams into a reality" he said.
Level 33's Panorama Blakehurst has seen similar sales success with 60% of all 47 apartments now sold totalling over $20 million in sales.
Mr Haddad said: "When planning and building Panorama Blakehurst, we kept families 'top of mind' from choosing locations nearby to parks, cycle tracks  and schools to the large open plan entertaining areas to keep families connected while living in spacious enough surrounds to enjoy a sense of freedom".
Interested buyers can still purchase at Vicinity Point with a number of apartments remaining priced from $730,000 for a two bedroom apartment and $1,100,000 for a three bedroom apartment with park and city views. Studios and one bedroom apartments are already sold out.
Panorama Blakehurst has a limited number of apartments available including one bedroom apartments from $545,000 two bedroom apartments from $710,000 and three bedroom apartments from $899,000.
Recently launched, Kogarah Central is currently selling new studios starting from $460,000 one-bedroom apartments from $550,000, two-bedroom apartments from $700,000 and three-bedroom apartments from $1,120,000.
Consisting of 233 apartments across two 11-storey buildings, Kogarah Central will include a vibrant community with a mix of studio, one, two- and three-bedroom apartments from an attractive $460,000 making the ideal first home or investment purchase.
It will also offer five penthouses and a collection of unique two storey 'town homes' with apartments.
To register interest for any of these properties visit the below or call 1300 488 088.
Kogarah Central  https://kogarahcentral.com.au
Vicinity Point https://vicinitypoint.com.au
Panorama Blakehurst https://panoramablakehurst.com.au
About Level 33
Experts in premium multi-residential and commercial projects, Level 33 specialises in all areas of the construction process, assigning the most experienced, talented professionals to suit every individual project. Undertaking developments with skill, care and meticulous attention to detail, they believe
that outstanding design is the foundation for every exceptional project.
Founded in Sydney in 1999, they have a dedicated design team accomplished at making clients' ideas a reality, injecting their signature originality while showcasing innovation, quality and an understanding of the local environment and community.
Level 33 currently has a development pipeline of more than $1 billion, with approximately 450 apartments under development in the southern Sydney region. As one of Sydney's most active property development and construction companies, Level 33 has delivered over 20 premium residential projects in the past 20 years.
About St Trinity Property
St Trinity Property Group is a Sydney based diversified property group established in the early '90s. It has successfully brought to market more than $1 billion worth of sustainable residential communities. The group prides itself on its intricate knowledge and deep entrenchment in the communities it services, playing an integral role in the local market. Its experienced team of dedicated professionals has a substantial depth of knowledge and great passion. A multi-disciplinary background allows them to successfully deliver an exceptional, highly tailored service to clients and provide the perfect synergy with their requirements.