Starwood Hotels & Resorts Sets New Luxury Benchmark in Malaysia's Capital City With the Debut of the St. Regis Kuala Lumpur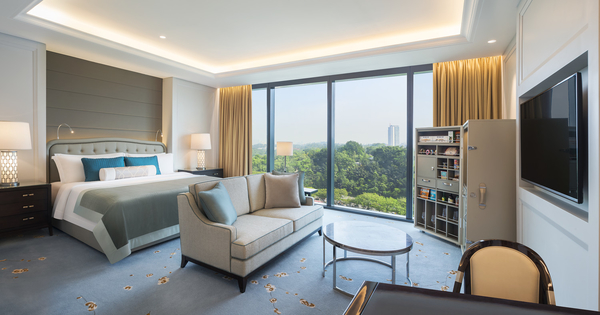 KUALA LUMPUR, MALAYSIA – 3 May 2016 - St. Regis Hotels & Resorts, part of Starwood Hotels & Resorts Worldwide, Inc. (HOT:NYSE), today announced the debut of the brand's 38th hotel with the opening of The St. Regis Kuala Lumpur.
Owned by ONE IFC Sdn Bhd, The St. Regis Kuala Lumpur combines modern day glamour with old-world elegance, encompassing thoughtful design elements for convenience, privacy and security; and offering an unrivalled dimension of luxury, sophistication and bespoke service. 
Part of ONE IFC, a premiere mixed-use development, the hotel is located in the prestigious Kuala Lumpur Sentral Precinct (KL Sentral). Following this highly anticipated opening, St. Regis will add three additional locations to its coveted portfolio in 2016, including the Maldives, Changsha, and Cairo.
"The St. Regis brand is growing in the most vibrant and sought-after destinations around the globe and the debut in Kuala Lumpur, in partnership with ONE IFC Sdn Bhd, truly marks an incredible milestone for our company," said Jim Petrus, Global Brand Leader, St. Regis Hotels & Resorts. "The St. Regis Kuala Lumpur's strategic location, tech-forward facilities, and sophisticated services will offer the finest guest experiences imaginable, crafted for today's luminaries who make our hotels their home away from home."
Iconic Address
Set against one of the most prominent and romantic neighborhoods in the city, The St. Regis Kuala Lumpur boasts magnificent vistas of Malaysia's bustling capital including Kuala Lumpur's largest park, the Lake Gardens, as well as the National Museum and Houses of Parliament. Inspired by a luxurious Manhattan apartment, with interiors and architecture by G.A. Design, the hotel features a timeless design scheme created with historical context and a sense of opulence. The exquisite art collection includes masterpieces such as a monumental 3.5 metres horse sculpture by Fernando Botero; Grace Thunders, a specially commissioned diptych of two 4.9 metres hand-etched leather murals by Mark Evans depicting a powerful polo charge; and a three-dimensional Birds and Butterflies artwork by Barnaby Hosking.
The St. Regis Kuala Lumpur houses 208 gracefully appointed accommodations, each with a walk-in wardrobe. Starting at 63 square metres, the guestrooms are the largest in the city, and suites, starting from 138 square metres, are also unmatched in size. The Royal Suite, spanning 353 square metres, offers private elevator access, an outdoor terrace with panoramic skyline views, a show kitchen, separate his-and-hers walk-in wardrobes as well as an en-suite massage room and gym.  
Further augmenting the experience, The St. Regis Kuala Lumpur offers the brand signature St. Regis Butler Service which presents discreet, personalized, and anticipatory attention, including complimentary daily pressing, unpacking and packing, and in-room morning coffee and tea service.
"The collaboration with Starwood's ultra-luxury brand further positions Kuala Lumpur as a global city, redefining luxury hospitality in Malaysia and the region. As a niche property developer, we are committed to setting new benchmarks for the St. Regis brand, putting modern technology at the forefront of this development. The St. Regis Kuala Lumpur's distinct style will allow guests to enjoy the city's largest standard rooms, exquisite dining venues and avant-garde event spaces," said Carmen Chua, Chief Executive Officer of ONE IFC Sdn Bhd.
Exceptional Cuisine, Elevated Amenities
The St. Regis Kuala Lumpur features six distinct restaurant and bar venues including Taka by Sushi Saito, the first restaurant to open outside Tokyo by three Michelin-starred chef Takashi Saito. Ginza Tenkuni offers Edo-style tempura created the same way since the original restaurant opened its doors in 1885. The Brasserie delivers a European café experience during the day and transforms into a contemporary French-Mediterranean bistro in the evening, while The Astor Bar and Decanter serve exquisite cocktails and carefully selected wines by the master sommelier, all set under a canopy of hand-made golden Italian tiles. The Crystal rooftop bar provides an elegant space for cocktails and champagne, whilst The Drawing Room beautifully presents The St. Regis afternoon tea, enhanced by a tea sommelier.
Guests can select from a range of refined experiences that reflect the latest innovations in beauty and wellness at the Iridium Spa. To maintain an active lifestyle while traveling, the fitness center, yoga room, and outdoor swimming pool will offer a refuge to refresh the senses.
Sophisticated Venues, Avant-Garde Technology
Featuring over 10,000 square metres of private event space, The St. Regis Kuala Lumpur is set to transform the region's meetings and events landscape, including an impressive LED video wall projection system in the Grand Ballroom. Acting as a LED Digital Canvas, the projector immerses guests in a virtual reality simulation, providing unparalleled image and sound quality through a panoramic display. Supported by a superlative light and sound structure, screenings captivate audiences by elevating the levels of communication and interaction to previously unimaginable heights.
Other facilities include a supersized lift that can transport cars and other sizable exhibits into the ballroom, and The Salon, which is specially designed for weddings and VIP events. The room has a lounge and dressing room for the bride or personalities to change or refresh; and offers a live video feed from the Grand Ballroom so they can stay connected to the main event. In addition, The Exchange Rooms, equipped with teleconferencing facilities, make ideal boardroom meeting venues whilst the Screening Room is perfect for media and product launches.
"Kuala Lumpur serves as a befitting destination to introduce the St. Regis brand with its intriguing juxtaposition of refined elegance and contemporary charm," said Charlie Dang, Regional Vice President, Southeast Asia, Starwood Hotels & Resorts Worldwide. "The opening of The St. Regis Kuala Lumpur further strengthens our commitment to Starwood's luxury portfolio in this dynamic market, which continues to see strong demand for high-end accommodations from discerning travelers."
For more information, please visit www.stregiskualalumpur.com
About St. Regis Hotels & Resorts
Combining classic sophistication with a modern sensibility, St. Regis is committed to delivering exceptional experiences at over 35 luxury hotels and resorts in the best addresses around the world. Since the opening of the first St. Regis hotel in New York City over a century ago by John Jacob Astor IV, the brand has remained committed to an uncompromising level of bespoke and anticipatory service for all of its guests, delivered flawlessly by signature St. Regis Butler Service. Starwood's ultra-luxury brand is set to expand its legacy to 50 hotels by 2020. For more information and new openings, visit www.stregis.com or follow Twitter, Instagram and Facebook.
About ONE IFC  Sdn Bhd
ONE IFC is a subsidiary company of CMY Capital Sdn Bhd, and is a joint venture with MRCB Sdn Bhd and Jitra Perkasa Sdn Bhd.