3 things I learned from reinventing my business when we nearly had to close
Written by

Taylor McPhail, Co-Director of McPhails Furniture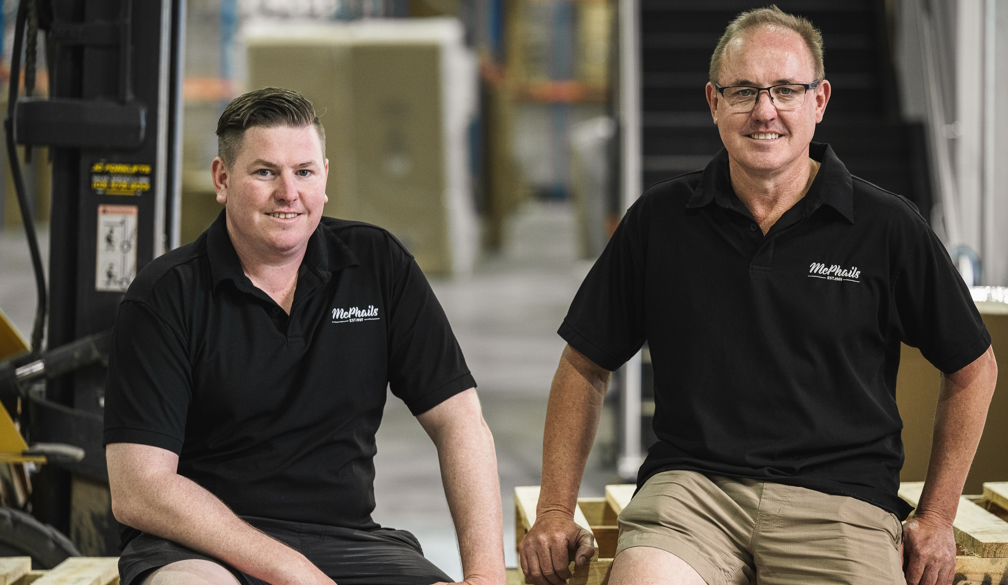 Lockdowns were hard for so many people. As a business owner with a physical store that ended up being deemed as "non essential", myself and my family ended up struggling alongside so many others. In fact, the company that my dad, Keith McPhail, built back in the 1960s has supported the majority of my family over the past 40 years. It was a lifeline for many of us, so when the lockdowns hit, our doors closed and customers stopped coming to visit us in Wangaratta, we knew we had to throw everything that we had at it in a last ditch attempt to save the business.
Myself and my brother Casey are at the helm of the business right now. Casey started working there when he turned 22. I started later, in 2014 after I finished a business degree. Both of us remortgaged our homes to keep the business afloat. At first we felt that it may be a bit of a feeble attempt, and that we would need to shut down shop and go to work on a farm. However we got our heads together, and through our own brainstorm and the assistance of a bunch of contacts that I had made at universally, we managed to turn things around. We went from bringing in $900, 000 a year in turnover, to $22 million in four months. We also went from having one Hino delivery truck to 12, and a team of four employees to 30. We also outgrew our shed and ended up having to rent all 22 sheds available in town. We have since invested in creating a massive 8000sm warehouse to house our stock and to invite people into the store.
So what have I learnt along the way? Here are the highlights.
Customers want to maximise their purchase, so make sure you are adding value
While our furniture is priced fairly, customers like to know that they are getting the best deal possible, as well as the best service. When it comes to furniture, delivery fees are often hefty, so we decided to test out the idea of having a $59 flat rate delivery fee. We offered this to all customers within a 1500km radius from our store, so we pretty much deliver to most of NSW, VIC, the Gold Coast, Canberra and parts of SA.
This deal went really well. We saw a huge rise in uptake when it came to sales. In addition, because of our additional Hino trucks, and the fact that we had so much stock on hand, we were able to deliver within two weeks while other furniture stores were having stock issues. As soon as we realised they were struggling to get furniture here from overseas, we took a risk, put in a massive order and hired all of the available sheds in town to house everything.
We turned to social media
Facebook advertising has been game changing for us. We invest a lot into it every month, and it has really paid off. While we do have a few styles of ads going, the $59 flat rate delivery is what really took off. 
We have also started building a presence on Instagram as well as we know that a lot of people look to the more visual platforms for inspiration when it comes to their homes.
We went all in in a time of uncertainty
This is more of an observation than a tip, but it seems that in times of uncertainty, if you can grow and adapt, you have a chance of doing better than ever. I have heard of quite a few business leaders stating this before, but now it really makes sense to me as we have experienced it for ourselves. 
When the Covid-19 pandemic hit, many people started freaking out and battening down the hatches, but then once interest rates lowered, the Government released a bunch of schemes to keep people afloat, and many people just started working from home, people started spending money. One thing they spent money on was  houses and home improvements. Without realising it, we ended up getting including in a massive boom and had we had not pushed our business online and started advertising in a major way, we would have missed the boat. Now, while we still advertise and do PR, we also get a lot of repeat sales, as well as customers who come in through word-of mouth.
Here are the top things that I have learned from this experience. However, believe me I will continue to learn and adapt everyday. But if you strategise, think about what your customer really wants and how you can communicate your offer to them, it will give you a much better chance getting their attention and hopefully getting repeat business from them.