TEN13 doubles investor network to 550 syndicate members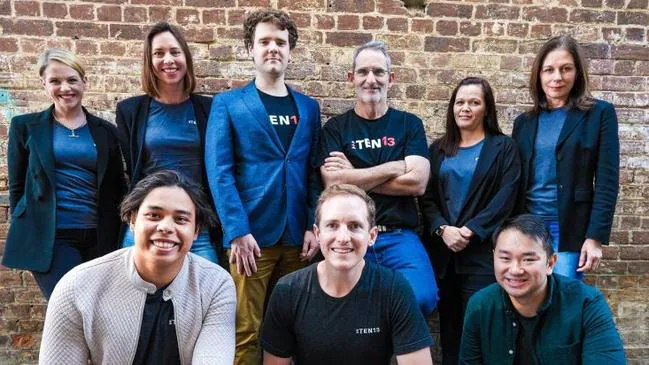 TEN13, Australia's fastest growing venture syndicate, today announced it has reached a new milestone with 550 experienced and sophisticated investors joining the new syndicate. In spite of a challenging macroeconomic environment and volatility within the market, TEN13 has had success with its network-based approach and deal-by-deal hybrid angel model. 
Since its inception in 2020, TEN13 has raised $70 million to support 32 startups, including 11 follow-on rounds for existing portfolio companies, and is well on its way to raise $100 million over the next year. So far, the fund has supported two unicorns and one exit. To support and continue this success, TEN13 is doubling its operational team with experienced analysts and associates from Artesian, Stake and more, to build and educate the investor community and support portfolio companies.
TEN13's unique network-based investment model draws on investment and experience of operators, early employees and founders of some of Australia's biggest startup successes as well as the biggest companies in the world, building a VC brainstrust and global investment community like no other. Private investors include early employees at Atlassian and Canva, as well as experienced operators from Airbnb, Uber, Stripe, Woolworths and Google. By tapping into Australia's experienced startup operators, TEN13 can provide its startup investments with greater access to a broader range of experience to support their growth and expansion.
TEN13's portfolio includes successful Aussie startups like Clipchamp, acquired by Microsoft last year, as well as unicorn Go1, fast-growing Mr Yum and zero-alcohol brewer Heaps Normal. The portfolio has also tapped into its broad global experience to invest in emerging markets like African and Latin American startups such as Treinta and fintech unicorn Chipper Cash to expand its global footprint for investments. 
"Hitting 550 investors is a major milestone for the company and the fuel we need to power into our next phase of growth. It proves our network-based model is gaining momentum and will help us reach our goal of raising $100 million in the next year. But quantity is by no means prioritised over quality when it comes to making sophisticated investments. We continue to have an incredibly supportive investor community made up of founders, operators, executives and family offices that offer advice and support based on their own extensive experience in investments," said Stew Glynn, Managing Partner & Co-Founder, TEN13 
Notable new investors include Zsofi Paterson, Australian CEO of Centr, Chris Hemsworth's fitness app, which was recently acquired, and Adrian Di Marco, founder of TechnologyOne, one of Australia's largest enterprise software companies.
"What initially drew me to invest with TEN13 was the deal-by-deal model as it not only offers access, but also flexibility and choice. They provide great exposure and opportunities to invest in global and emerging markets. Being a part of the TEN13 community allows you to learn about the way other investors think about opportunities, and build your own network amongst other like-minded peers as well," said Zsofi Paterson, Australian CEO of Centr, Chris Hemsworth's fitness app, which was recently acquired. 
The curated angel network is built from founders, operators and successful startups along with experts from the corporate realm, providing a unique mix of smarts and experience to the portfolio. To gear up for the ambitious goal of raising $100 million in the next year, TEN13 not only doubled the operational team, but also further bolstered the TEN13 executive team with four new members:
Seamus Crawford (Investment Principal) — Previously, an Investment Principal at VU Venture Partners based in Hong Kong, and previously in strategy and finance roles at Pupil (UK scale-up). Famous for SaddleSandSea, he rowed across the Atlantic and did 6 marathons in 6 days across the Sahara. Seamus is launching the TEN13 Sydney office.

Alexandra "Griggsie" Grigg (Investment Associate) — After in-depth VC experience at fellow syndicate Flying Fox ventures and Artesian / SAVC, she joined the TEN13 team. Griggsie has been recognised as a 2020 Young Leader of the Year at the Women in Finance Awards and a Forbes 30 under 30 Asia in 2021 for Finance and Venture Capital. 
Alexander Barrat (Investment Analyst and Content) — Spent five years at trading scale-up, Stake, leading some of their content team for their analysis and circulation to 400k user base. Previously experience at Harvest Lane Asset Management and ZeroCap. 

Elise Cannell (Investor Relations Associate) — Worked at a startup, Step One, and shifted across to fuelling founders after being the youngest ever aircraft captain for Virgin. 
At TEN13, we continue our ambitious plans of fuelling more founders and building out the most vibrant and active early-stage investor community. It has been wonderful to welcome the four new members to the TEN13 team over the last few weeks as we continue on our growth journey this year. To find out more visit: https://www.ten13.vc/