Dovetail Invests In InStitchu To Transform The Made-To-Measure Market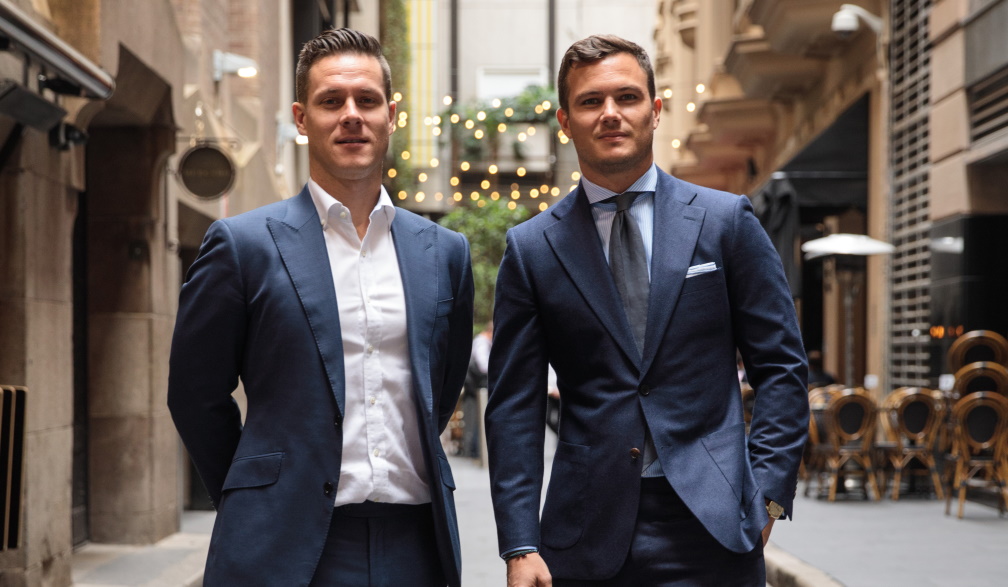 Australian custom tailored clothing brand InStitchu and venture studio Dovetail are today launching Taper (a wholly-owned subsidiary of InStitchu). Taper is a technology company designed to democratise made-to-measure garments and reduce the retail industry's costs, uncertainty and environmental impact. 
The idea to create Taper was born from the success of InStitchu's software development to manage all aspects of its tailor-made brand both online and across its 14 showrooms in Australia. The cost reductions and service improvements, combined with higher business visibility and insight gains, caught the attention of partners and retailers, which wanted to license the technology. 
"Made-to-measure businesses are complex, costly and prone to mistakes. It's a business model that is impossible to scale without the right technology to track and provide insights into every aspect of the business and supply chain," says Robin McGowan, Co-Founder at InStitchu. 
InStitchu Co-Founder James Wakefield agrees: "It's hard to achieve profitability, particularly at scale. That is why most companies in the sector are relatively small. But technology can transform the industry by allowing profitability at scale and democratising custom, tailored garments across the global apparel industry. Taper was born to deliver this transformation and respond to existing demand." 
The venture studio Dovetail, which has ample experience in building high-growth technology companies, partnered with InStitchu to co-create Taper, fulfilling the role of their design and development partner. Dovetail is most widely known for its role in building the tech behind one of the most successful Australian tech companies, Afterpay, along with other top-tier companies like Bakkt and Cashrewards. 
"We have extensive experience identifying great ideas and helping founders materialise and scale them with the right technology and business design support," said Nick Frandsen, Co-Founder at Dovetail. "Robin and James have a deep understanding of their market and how technology can reshape the made-to-measure industry. Together we will scale their vision globally and transform the segment."
Large retailers in the United States and Europe are already utilising Taper's technology to offer custom, tailored garments as an additional product category and revenue stream. 
Wakefield says: "Our first client was a traditional retailer that wanted to introduce a made-to-measure line into their 17 stores across North America. Retailers are looking for ways to continue to be competitive in their product offering and range whilst reducing their inventory requirements and operational costs. Our technology delivers that – Taper makes the customisation process simple, reliable, and cost-efficient, changing the economics of personalisation and democratising custom, tailored clothing. Most importantly, Taper makes it easy for staff to start selling made-to-measure garments." 
Taper's executives explain that the software can benefit players of all sizes and the entire supply chain by reducing errors and costs. A significant benefit of the technology for retailers is stock reduction. Growing custom clothes sales minimises the cost and risks of holding products that consumers do not necessarily want. 
One of Taper's key goals will be helping large format retailers and department stores launch made-to-measure product lines in an attempt to help them better service their customers in regards to style, fit and price - most importantly, without the store needing to invest in unnecessary stock and inventory. 
Research shows that the sales conversion rate at department stores can be as low as 3% due to not having the desired style, price point or size/fit. Taper can significantly increase this conversion rate by offering almost endless sizing and design options at the store, most importantly, without the need of investing so heavily in stock and inventory that may well end up in landfills if it can't be sold.
Sustainability is an additional reason retailers of all sizes are looking for customisation as a strategy to move away from fast fashion. It's estimated that the industry produces at least 92 million tonnes of textile waste and emits over a million tonnes of CO2 each year. By 2030, the sector will discard more than 134 million tonnes of textile per year. Custom, tailor-made clothes can substantially reduce this waste as the garments are only made when the customer places an order (usually a purchase which is given a lot of consideration prior to completion). 
The joint-venture announcement happens as InStitchu closes its pre-IPO investment round. The company has raised $7 million with investors, including Dovetail, Washington H. Soul Pattinson, Seven West Media, Smarter Capital and retail heavyweight Paul Greenberg.