Men's hair trends of 2019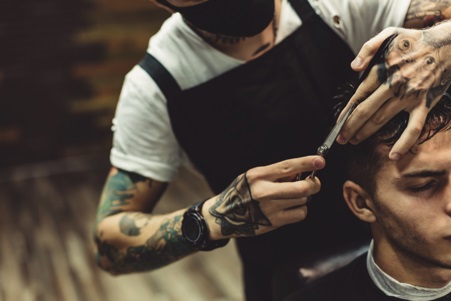 Getting a new look after every year is a good idea because people will associate you with change. You can opt to up your hair grooming game, restyling the hair or changing the hairstyle altogether. Here are some of the hairstyles that are likely to turn more heads in 2019.
-  The Buzz Cut
Some of the pretty boys on Hollywood such as Brooklyn Beckham and Zayn Malik are now using razors. They adopted a minimalist appearance that emphasizes sharp jawline and the wardrobe. If you are a brave soul, you can adopt the buzz haircut. A bright hair dye will make it look awesome. In fact, any colour can work with the hairstyle. Ask for a grade 3.0 or 2.0 on the top of your hair and a 1.0 grade on the side and back. That will make a gradual effect on the hairline tips.
-  Updated Curtains
Hairstylists have updated the Curtains, a hairstyle that was very popular in the 90s and early 2000s. At the end of the year 2017, the style became increasingly popular and the same happened in 2018. It is one of the hairstyles that you can wear smart or messy. It is suitable for rock roll as well as the office. To develop the best appearance with the hairstyle, keep the sides and the back shorter and ask for a strong foundation and fashion-forward take.
-  Blunt Fringe
If you want to be fashion-forward and still maintain a versatile appearance, you should consider the blunt fringe hairstyle in 2019. The hairstyle is ideal for square-shaped faces and for people with lifeless or flat hair. People with bouncy locks might need to apply styling paste when the hair is wet and blow-dry it forward to get sharp controlled hair.
-  Mid-length Waves
Stylists have transformed long hairstyles from awkward to pleasant fashions. If you have a man bun, you just need to invest in a new conditioner and allow the hair to flow. The style works better for individuals with textured and wavy hair kept cut to jaw length or mid cheek. At first, the hair will definitely appear high maintenance, because you will have to trim the ends on a regular basis.
-  The Bob
When we asked a local barber from Area Studio, they commented that men's hair trends of 2019 are still increasing. In 2018, most men embraced longer hair. Men are using the layered mid-length cuts that were common in the 0s to enhance their appearance. If you need this hairstyle, keep your hair long enough such that you can tuck it behind your ears, keep it layered and keep its weight at the top of your head. For maximum coolness, keep the hair at your jaw length. It is ideal for men with thick, textured hair.
-  Skin Fade with Part
The skin fade has been around for many years and more people are now accepting it. The hairstyle involves fading the hair down to your skin. The hair reduces as it moves towards the neck until it is just the skin. The skin fade will provide you with a clean polished appearance. If you want to provide your hair with makeup and tap into fashion power, you should try this hairstyle.
If you need curls, you should enhance their bounce with the available products. Otherwise, they can be chaotic. If you do not want something ordinary, show-off deeper side part that can contrast nicely with your curls.