The Oztent Group Awarded THREE Good Design Awards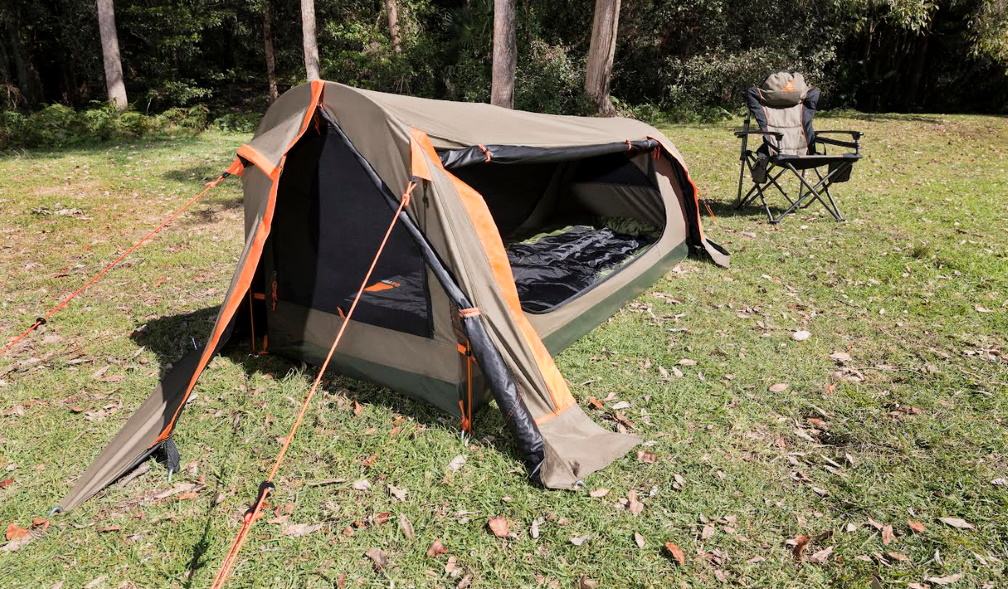 The Oztent Group was awarded THREE Good Design Awards, including a GOLD Good Design Award, for the design and innovation of new products created for campers and adventurers around the world.
The Good Design Awards is one of the longest-running and most prestigious international design award programs.  Promoting excellence in design, innovation and impact, this year over 930 design projects from across the globe were submitted to the international panel.
"As a business we constantly invest a great deal into developing products that create awesome outcomes for campers everywhere; explains Luke Eather CEO of The Oztent Group.

This week's announcement is a humbling acknowledgement, from some of the world's greatest design minds, that we are achieving this ambition.

The whole team is delighted that our commitment to helping customers create better experiences has achieved such recognition."
The GOLD Good Design Award was awarded to the soon to be released, OZTENT DS-2 PitchBlack Double Dome Swag. Designed like a swag the DS range is so feature packed it delivers like a house.  Using
Oztent's
patented PitchBlack Tech™, they are the only swags in the world capable of keeping out up 95% of sunlight – making them perfect for those that work, or play, late into the night and need to rest during the day.
Explaining the win, the judges said:  
"The main focus on light-proof fabric is a great bonus for Australian outback conditions.  This is the first product of its kind to block out sunlight, which is very impressive.  It's a well thought out and executed double swag that offers high-quality, breathable fabric, in-built ventilation solutions and good tie-downs.  Overall, it's the ultimate high-end swag. 

A standout project that ticks all the boxes for good design in this category. Well done."

The GOLD award means that the consideration that has gone into this swag's design, innovation and construction makes it a stand-out product in the sport and lifestyle category of the awards program.
The OZTENT DS-2 PitchBlack Double Dome Swag will be available nationally from December, initially selling exclusively through Anaconda stores, and will retail for $679.99.
The OZTENT Stratus Double Self-Inflating Mattress was awarded a Good Design Award.  This mattress redefines the concept of luxurious sleeping when camping, by taking comfort, speed, and ease to a new level.
In developing this mattress, and others in the range, the groups Global Product Development Manager, Trent Fitzgibbins, was inspired by personal circumstance. Trent had a broken back and has a wife who use to struggle with his constant tossing and turning when camping.
This mattress, and the OZTENT Stratus XL Single Self-Inflating mattress, are constructed around Oztent's innovative AeroFrame Foam Core™.   
AeroFrame Foam Core™ is precision designed for maximum sleep comfort, rapid inflation, and compact storage. Inspired by advanced aerostructure design, the AeroFrame foam offers evenly distributed sleep support while minimising bulk and weight. The structure also intakes air swiftly during roll-out and ejects air quickly when you roll it up. Its construction delivers full form support - allowing you to twist and turn without disturbing your partner.
The judges said of the OZTENT Stratus Double Self-Inflating Mattress: 
"There are some neat and clever solutions in this product, and it's clearly built for purpose. 

"The light and durable self-inflating camping mattress uses an innovative combination of high-quality materials for the valve, foam and exterior fabrics. The designers should be commended on the very clever use of the cover as a pump for additional air in the mattress.  This is a well-designed mattress that offers ultimate luxury!!"

The OZTENT Stratus Double Self-Inflating Mattress is available nationally through all dependable outdoor and camping specialists for around $429.99
The Good Design Award hat-trick was taken out by the OZTENT Redgum Hotspot™ XL Heated Sleeping Bag - the world's only non-electric heat adjustable sleeping bag.
Based on aerospace sleep research, the sleeping bag has been designed to maximise outdoor sleep comfort. By inserting OZTENT HotSpot™ pouches into the sleeping bag, in locations adjacent core active heating regions on the body, campers adjust the bags temperature to their needs. This allows campers to achieve the optimal level of warmth and comfort for their sleep requirements - free of electricity, cords, or complexity.
When explaining why the OZTENT Redgum Hotspot™ XL Heated Sleeping Bag was awarded a Good Design Award the judges said: 
"This is a great low-tech approach to outdoor heating...  The sleeping bag fabrication and design communicate durability and comfort.  The reusability of the HotSpot pouches and the benefits these provide to winter camping fits the whole ethos of outdoor ruggedness.  It's a simple solution that will make a lot of campers happy."

The OZTENT Redgum Hotspot™ XL Heated Sleeping Bag is available nationally through all dependable outdoor and camping specialists for around $249.99
For more information on all products visit www.oztent.com.au.