Top Five Coworking Spaces in Melbourne
Written by

NewsServices.com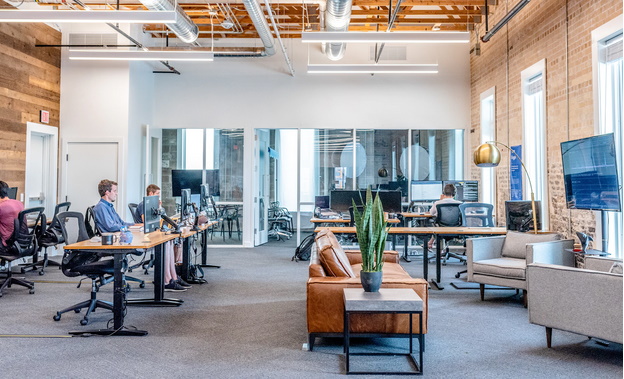 When it comes to flexible working arrangements, coworking spaces seem to be leading the pack in terms of availability. Almost all major world cities have coworking spaces operating from their central business district areas, including those who make Melbourne their homes. In 2019, compared to other Australian cities, Melbourne had the highest number of coworking spaces, including 170 specifically targeting small business owners.
Though this makes you spoiled for options, which one of these is actually the best coworking space in Melbourne? The answer to this can usually change depending on who you're asking. And the best place for you to be may not be one that others agree with. For now, however, we'll share with you our list of the top five coworking spaces in Melbourne; let's see if there's any of them that you think deserves to be here.

The Commons
The Commons pitches itself as a place designed for better working experiences. And they did it: The Commons won the 2017 Melbourne Design Award for its branch in South Melbourne. If you've ever visited one of their locations, be it one in Melbourne or Sydney, you can see why.
Their communal spaces, where members can interact, appear in different setups, from a kitchen bar table to rooftop picnic benches. For those who need a more secluded area, The Commons offer traditional chair-and-desk arrangements and hanging chair pods for those looking for something less conventional. Besides their well-designed locations, The Commons provides various facilities and amenities for its members, from private phone booths to an outdoor basketball court.

YBF Ventures
YBF (York Butter Factory) Ventures is more than just a coworking space – it's a place where tech startups grow. With three locations in Melbourne, YBF provides businesses not just a location to grow their businesses but also access to funding and collaboration opportunities with well-established companies.
YBF Ventures also operates several tech hubs for specific industries in collaboration with market leaders and government agencies, such as YBF Fintech Hub and LawTech Hub. Despite its trajectory as a partner for helping businesses access opportunities for further funding, YBF is still a coworking space. Thus, they also offer several classic coworking amenities, such as private office spaces and shower facilities.

Creative Cubes
With four locations in Melbourne, Creative Cubes offer their members access to not just shared office spaces but also private offices for those who need more customisable spaces. Creative Cubes' private office spaces are extremely varied in sizes, from those designed to accommodate 5-6 people to ones that are capable of meeting the needs of 350 employees at once.
Creative Cubes' members have access to amenities such as a fully-stocked kitchen, 24/7 access, as well as print and copy stations. This coworking space is also unique in that it offers a number of event spaces not just in one of their branches but in all of them, called MicDrop.

The Cluster
While most of the coworking spaces have strong local connections, The Cluster is different. It is one of The Hive's branches, a coworking and serviced office provider that operates from seven locations – Hong Kong, Japan, Thailand, Vietnam, Taiwan, Singapore, and Australia. With a 360-degree view of the Melbourne CBD skyline, The Cluster members can choose to rent out a private office or pick any of the available desks and sofas and get down to working.
The Cluster also offers very flexible plans at a relatively lower cost, with access granted based on purchased hours – though they do also have unlimited plans available. Their basic plans offer free meeting room access and coffee made fresh daily by an on-site barista. 

LaunchPad Coworking
While many of the coworking spaces in this list offer superb amenities, LaunchPad Coworking in Richmond is unique in its emphasis on members' communities. Those who made LaunchPad their homes are not just early-stage startups but growing businesses with proven track records. LaunchPad leverages its members' diversity with multiple community events designed for interdisciplinary experience exchange.
Of course, this focus on communities doesn't mean LaunchPad is slacking in its amenities offering. With three locations in Richmond, all members can access unique facilities such as recording studios, kitchen areas, and teleconference rooms.  
So, what do you think of the coworking spaces in this list? The appeal of a coworking space arrangement lies in its flexible office spaces, so you don't have to commit long-term to one location. Since each coworking space has a unique selling point, why not try them all first-hand to see which one is truly designed for you and your business?


United Co.

With a purpose-designed stand-alone building in Fitzroy, United Co. is not just another coworking space. United Co. offers coworking and premium office space in Melbourne, no matter the size of your business. Workspaces are geared toward flexibility and growth. You can book a hot desk for a day, sign up for a flexible month-to-month membership or stay for longer. Offices range from 2 up to 150 desks. Members have access to a range of amazing facilities such as various types of break-out spaces, informal meeting areas a rooftop garden with sweeping views across Melbourne and a wellness suite complete with a gym and multi-purpose quiet room. If you need ad hoc workspace United Co. offers a range of premium meeting spaces, training rooms and day offices.