Why it's not anti-environmental to be in favour of economic growth
Written by

Eoin McLaughlin, Professor in Economics, University College Cork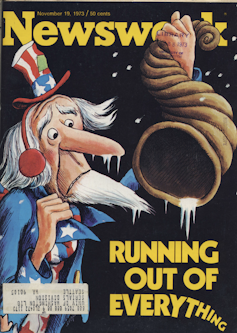 In the midst of today's cost of living crisis, many people who are critical[1] of the idea of economic growth see an opportunity[2]. In their recent book The Future is Degrowth[3], for example, prominent advocates Matthias Schmelzer, Aaron Vansintjan and Andrea Vetter argue that the post-Covid inflation has predominantly been caused by the inherent instability in the capitalist system.
This came in the form of problems with global supply chains and the asset price inflation which stemmed from government action in response to the pandemic. Since the same system is, in their view, also responsible[4] for causing climate change, moving away from it and curbing the economic growth on which it turns will help kill two birds with one stone.
Arguments like these recall and are directly influenced by[5] a famous scientific report from 50 years ago[6] called Limits to Growth[7]. Written by a group of researchers commissioned by the Club of Rome think tank, it warned of an "overshoot and collapse" of the global economy within 100 years.
The researchers forecast[8] that this decline would be caused by exponential growth in populations, industrialisation, pollution, food production and resource depletion. The answer, they said, was to move to a state of economic and ecological stability that would be sustainable far into the future.
Read more https://theconversation.com/why-its-not-anti-environmental-to-be-in-favour-of-economic-growth-189421