Christine Holgate's 'principal' error was applying corporate logic to Australia Post
Written by

Richard Holden, Professor of Economics, UNSW
Perhaps the most important lesson from the Christine Holgate controversy is that the confluence of sexism and politics leads to double standards for female executives.
But Holgate's demise – pushed from her position as Australia Post's chief executive last November[1] for gifting four senior executives Cartier watches (worth a total of almost A$20,000) in 2018 – is also a good example of how public-sector norms and private-sector competition don't mix well.
Read more: Scott Morrison won't say 'sorry' to Holgate but 'regrets' the hurt[2]
In particular, Australia Post's status as a so-called "government business enterprise" means it has to serve two masters: its social purpose and its commercial purpose.
Australia Post's website[3] highlights these two rather conflicting purposes. The very first thing it says is:
Over our long history, our social purpose and commitment to the community has remained the same; to create connections and opportunities that matter to every Australian.
But further down the landing page it asks us if we know that:
Our self-funded government business enterprise is owned by all Australians and receives $0 tax funding. In the past decade, we've paid over $1.5 billion in dividends to the Australian Government.
These may not be irreconcilable objectives, but they require very different incentives and compensation schemes for executives in such enterprises than are the norm in the private sector.
This all stems from the "effort-substitution problem" – one of the core principles of the branch of economics known as Contract Theory, for which Oliver Hart and Bengt Holmstrom were awarded the 2016 Nobel Prize in Economic Sciences[4].
The principal-agent problem
Holmstrom's contribution[5] for which he shared the Nobel was to advance our understanding of the "principal-agent problem".
This involves understanding how a principal (such as company's shareholders or board of directors) should optimally design an incentive contract for an agent (such as a chief executive).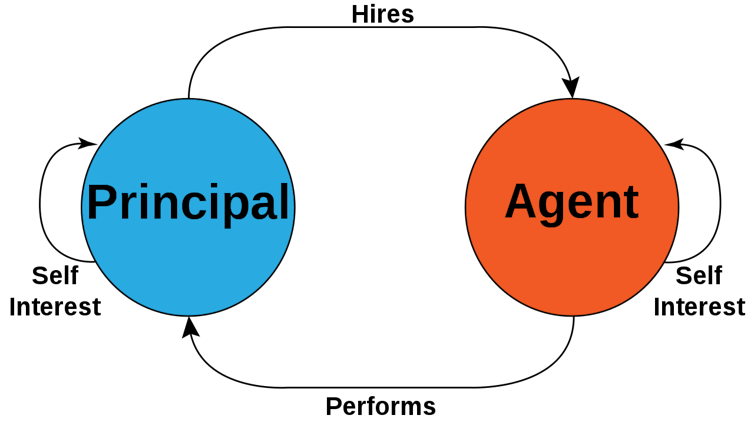 Authors: Richard Holden, Professor of Economics, UNSW
Read more https://theconversation.com/christine-holgates-principal-error-was-applying-corporate-logic-to-australia-post-158959