Australia's world-first repository of 'modern slavery statements' a step in the right direction
Written by

Fiona McGaughey, Senior Lecturer in International Human Rights Law, University of Western Australia
From "fast fashion" to tinned tuna to the components in your mobile phone, what guarantee do you have the goods you buy are slave-free?
The Australian government has taken a step forward by just publishing the first batch[1] of statements from Australian companies outlining their efforts to ensure their supply chains do not involve modern slavery.
The reports are the first substantial fruits of Australia's Modern Slavery Act, passed in December 2018, requiring all businesses with an annual turnover of A$100 million to publish "modern slavery statements" each year.
Businesses must report on the risks of modern slavery in their operations and supply chains, and on the actions they have taken to address these.
There are 121 statements in the repository so far. This includes 19 that are voluntary statements from businesses not required do so, but which have done so anyway to demonstrate their commitment to tackling modern slavery.
With the deadline for submitting reports extended due to COVID-19, the remainder will come by December 31 or March 31 next year (depending on the company's financial year).
The repository is a world first. Although there are repositories of statements made under similar laws such as the UK Modern Slavery Act[2] and the French Duty of Vigilance Act, these were established by non-government organisations (NGOs) in the absence of a government repository.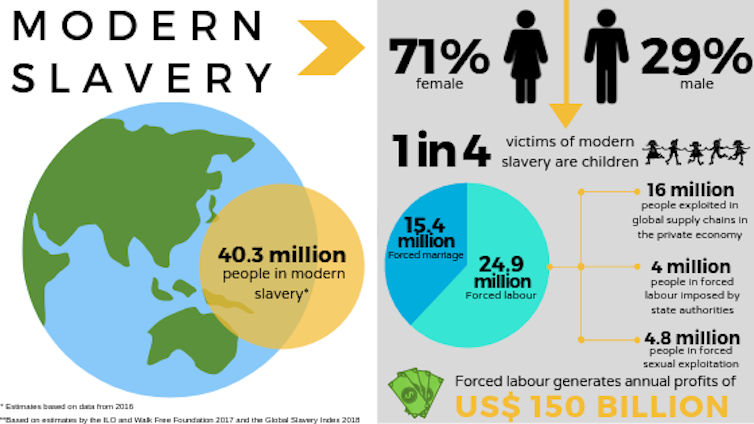 Authors: Fiona McGaughey, Senior Lecturer in International Human Rights Law, University of Western Australia
Read more https://theconversation.com/australias-world-first-repository-of-modern-slavery-statements-a-step-in-the-right-direction-151029