We need more stimulus to avoid a prolonged recession
Written by

Danielle Wood, Chief executive officer, Grattan Institute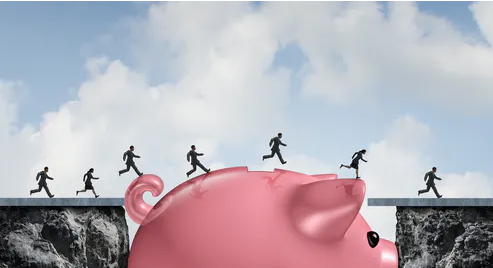 After two decades equating budget surpluses with good economic management, it might seem convenient that the federal government has changed its fiscal strategy[1] just before the budget to focus on jobs over keeping the deficit in check.
But it's the right move. The world has changed in ways that make government spending more necessary and government debt more sustainable than ever.
Debt talk still dominates newspaper headlines[2] and many of Treasurer Josh Frydenberg's media appearances[3]. But it shouldn't. Here's why.
We are in the middle of a major economic shock
The COVID-19 recession is the biggest economic shock since the Great Depression. GDP fell 6.3%[4] in the year to June, the worst annual result since 1929.
The federal government should use its balance sheet to spread the costs of such a large shock over time. The alternative would be to leave those who lost their jobs or businesses in poverty.
The government's emergency response saved businesses and jobs from going under in the short term. Now, as we emerge from the crisis into the recovery phase, large-scale stimulus is needed to boost demand and create new jobs.
Debt has never been cheaper
It has never been cheaper for governments to borrow. As the next chart shows, the interest rate on 10-year Australian Government Bonds is less than 1%. If inflation stays above 1%, as the Reserve Bank and Treasury expect, the "real" interest rate the federal government pays on the bond will be negative. That is, it will effectively be paid to borrow.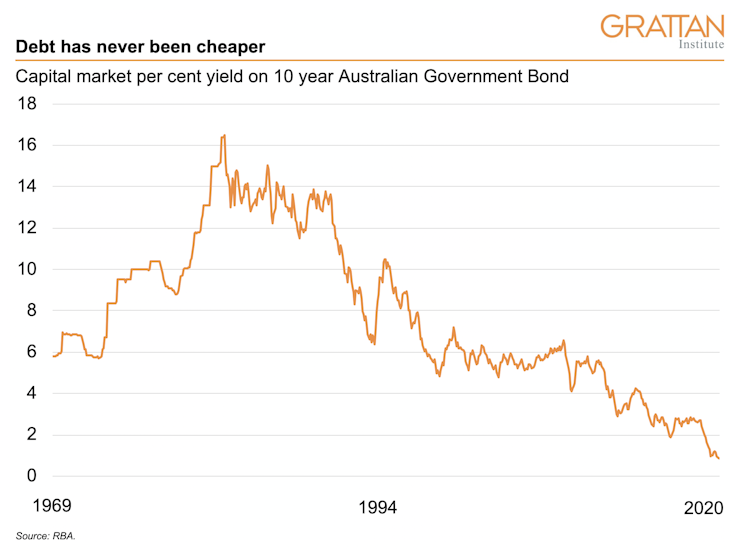 Authors: Danielle Wood, Chief executive officer, Grattan Institute
Read more https://theconversation.com/dont-worry-about-the-debt-we-need-more-stimulus-to-avoid-a-prolonged-recession-147369