an employer who cares about the environment, society and you
We spend, on average, about 90,000 hours at work.
Given this, most of us want work that's more than just a source of income. We want work that's satisfying, significant, valuable. Work, in other words, that is meaningful[1].
What makes any particular job meaningful is, of course, subjective. In the mid-1970s, though, economist Greg Oldham and psychologist J. Richard Hackman identified five common factors[2]: more skill variety, task identity (doing a job from beginning to end with a visible outcome), task significance, autonomy and feedback all help make a job more meaningful.
But there are also organisational characteristics that "lift all boats", contributing to everyone's sense of meaningful work. In our research, we have investigated the role of three key factors – environmental consciousness, social responsibility and inclusive leadership.
We found employees who rated their employer as environmentally conscious were 25% more likely to consider their work meaningful than those who didn't.
Those who believed their organisation was committed to corporate social responsibility were 59% more likely to think their work was meaningful.
And those who considered their supervisors to be inclusive leaders were 70% more likely to find their work meaningful.
Why meaningful work matters
Meaningful work outranks compensation, perks and other factors in career importance across all age groups, according to a 2019 survey of more than 3,500 workers in the United States, Canada, Ireland and Britain.
That survey[3], commissioned by software company Workhuman, found meaningful work becomes more important to us as we age. Those with sense of meaning and purpose were about four times more likely to love their jobs.
Our research involved surveying 506 Australians[4] working full-time across a broad range of occupations and position levels in service and manufacturing organisations.
About 70% of respondents agreed or strongly agreed their work was meaningful to them. About 20% were neutral. Slightly more than 10% disagreed.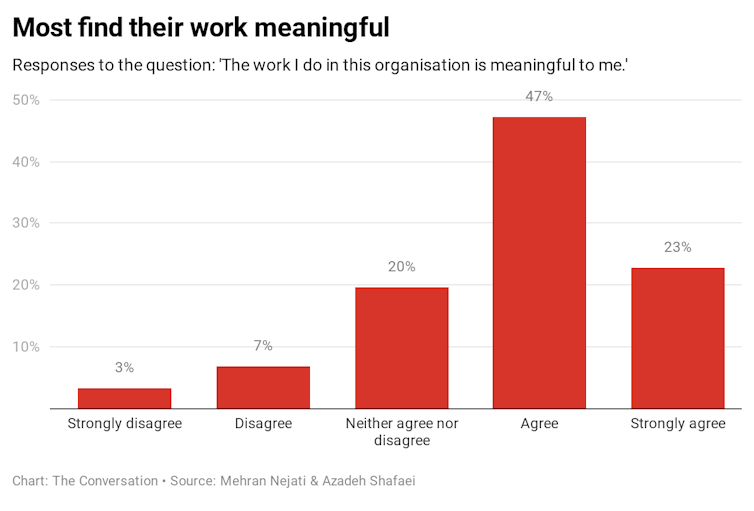 Authors: Mehran Nejati, Senior Lecturer in Management, Edith Cowan University
Read more https://theconversation.com/3-keys-to-meaningful-work-an-employer-who-cares-about-the-environment-society-and-you-132761