China's leaders are strong and emboldened. It's wrong to see them as weak and insecure
Written by

Saul Eslake, Vice-Chancellor's Fellow, University of Tasmania
There's an emerging view that China's belligerent approach and "torching" of diplomatic relationships with the wider world is a sign of "insecurity and weakness"; that its economic growth is "unsustainable"; and that "everyone in the top ranks of the Chinese Communist Party" knows the day is coming when "China's entire economic structure and strategic position crumbles".
These views are drawn from an essay by Peter Zeihan entitled A Failure of Leadership: The Beginning of the End of China[1].
He describes himself as a geopolitical strategist whose work history includes a stint working for the US State Department in Australia[2].
He is hardly the first person[3] to say these sorts of things, and I suspect he won't be the first to be wrong about them, at least for quite a while.
That's not to say he doesn't draw on facts. China has been extraordinarily profligate in its use of capital, and has become progressively more so over the last two decades.
Paul Krugman (1994) famously made the same point about the then rapidly-growing smaller East Asian economies a few years before the Asian financial crisis in The Myth of Asia's Miracle[4].
China is certainly laden with debt
Nor is there any denying that China has an enormous amount of debt relative to the size of its economy, especially for what is still in many ways a "developing" economy.
Debt as a percentage of GDP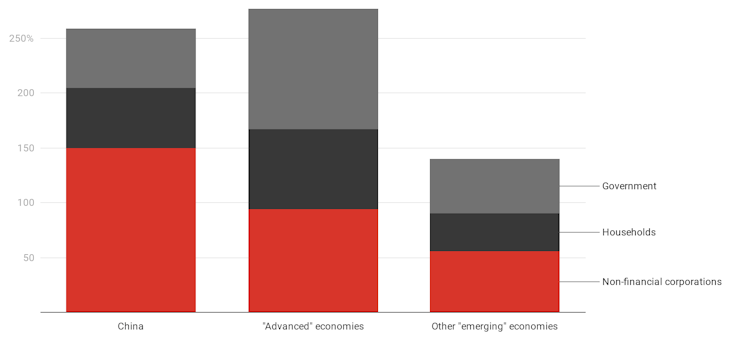 Bank for International Settlements, Credit to the non-financial sector
[5]
But, and this is an important "but", most of that debt is owed by state-owned enterprises to state-owned banks – which can be thought of as two entries on opposing sides of the same balance sheet, that of the People's Republic of China.
If a lot of that were to turn "bad", which is by no means impossible, then the ensuing "crisis" could be solved by writing it off, and then re-capitalising the state-owned banks by drawing down on the foreign exchange reserves of the People's Bank of China.
China has actually done this twice before, in the late 1990s[6] as part of the state-owned enterprise reforms pushed through by then-Premier Zhu Rongji, and again between 2003 and 2005[7], when the big four state-owned banks were "cleaned up" ahead of their very partial privatisation and listing on the Hong Kong Stock Exchange.
Read more: Journalists have become diplomatic pawns in China's relations with the West, setting a worrying precedent[8]
The "bad assets" were transferred into an entity called Central Huijin which subsequently became the nucleus of China's sovereign wealth fund, the China Investment Corporation[9].
An unknown question is whether the People's Bank of China's foreign exchange reserves would be sufficient for what would now be a much larger task.
It lost one quarter of its reserves (almost US$1 trillion) defending its currency between June 2014 and December 2016, after which it imposed very strict controls on capital outflows, which have remained in force ever since and are easier to maintain in an authoritarian regime that knows how to deploy modern technology for surveillance purposes[10] than in other countries that have resorted to capital controls such as Argentina.
But it is aware of the risks…
Since that time, the ubiquitous "Chinese authorities", as they are usually referred to by Western economists, have been acutely aware[11] of the risks to financial stability posed by the growth of so-called shadow banks and the way Chinese banks have become more dependent on wholesale funding and less on deposits; as US and European banks did, to a much greater extent, in the years leading up to the global financial crisis.
That's in part why China's economic growth rate has been steadily slowing over the the past decade, from an average of 11.3% in the five years to 2009, to 8.5% in the five years to 2014, and to 6.6% in the five years to 2019.
Read more: Book Review: Hidden Hand – Exposing How the Chinese Communist Party is Reshaping the World[12]
Another important reason has been that China's working-age population peaked in 2014 and has since shrunk by almost 1.5%.
It also helps explain why the People's Bank of China hasn't done nearly as much monetary stimulus as it did during and after the financial crisis or in 2015-16.
There hasn't been a significant acceleration in credit growth in recent months nor has there been a surge in property development or prices, as there would have been if the People's Bank of China had unleashed another wave of credit.
Average annual growth in China's real GDP over five-year intervals

Authors: Saul Eslake, Vice-Chancellor's Fellow, University of Tasmania
Read more https://theconversation.com/chinas-leaders-are-strong-and-emboldened-its-wrong-to-see-them-as-weak-and-insecure-143830