Precarious employment is rising rapidly among men: new research
Written by

Rebecca Cassells, Associate Professor, Bankwest Curtin Economics Centre, Curtin University
Precarious employment is increasing over time, and it still remains higher for women than men in Australia. But over the last nine years it has increased far more rapidly among men.
This is despite greater workforce participation and lower unemployment rates in Australia's labour market. The quality of jobs in Australia has been declining.
In a new Bankwest Curtin Economics Centre report, we develop a composite index[1] of precarious employment using data from the Household Income and Labour Dynamics in Australia (HILDA) survey.
Read more: The costs of a casual job are now outweighing any pay benefits[2]
The HILDA survey captures job attributes, labour force circumstances and other information about a large and representative sample of Australian workers. The index is based on 12 component indicators that capture different dimensions of precarious employment.
These include measures related to job insecurity like workers' own views of their future employment prospects, the chance of losing their jobs, and their overall sense of job security.
We also looked at irregular hours, working fewer or more hours than desired, and a loss of work-life balance to capture the degree of control over working hours. For employment protections and other working conditions, the index uses measures related to leave entitlements including sick, family and compassionate leave.
The calculated index is centred on the average measure of precarity across all occupations and industries. Negative numbers mean lower employment precarity than the average and positives convey greater precarity. The larger the value, the more precarious the work, relative to the all-industry average.
The index shows the overall state of the economy has had a significant impact on the level of precarious employment in the labour market.
It shows levels rising for both men and women since the global financial crisis.
However, for men, precariousness is now above 2003 levels, which suggests precarious work is being driven by more than just economic conditions. And while men are still below the levels of women, the two are beginning to converge.
A major source of this trend is an increase in the self-reported probability of losing one's job and accompanying dissatisfaction with job security.
Despite relatively stable and low levels of unemployment, workers are increasingly concerned that their jobs are at risk. The same holds true for satisfaction with job prospects, which dropped significantly since the global financial crisis and has yet to recover.
As expected, higher skilled occupations such as professionals and managers have more stable employment, while labourers and machinery operators and drivers are in the most precarious job circumstances.
Job insecurity has increased most among clerical and administrative workers and labourers, while for managers the key drivers are the loss of control over working hours and a reduction in work-life balance.
Working for government, a bank or insurance company appears to still be a relatively "safe" option. Industries with the lowest levels of precarious employment are public administration, financial and insurance services, and utilities.
By contrast, accommodation and food, agriculture, forestry and fishing, and arts and recreation services are much more precarious for their employees. Mining and to a lesser extent education have become more precarious in recent years.
Precariousness by industry and occupation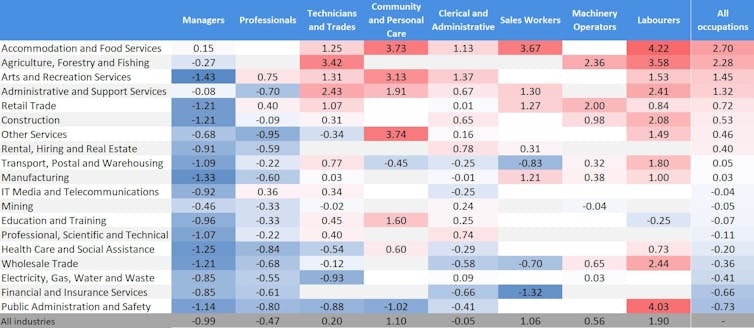 The index is centred on the overall industry average (as represented by zero). Negative numbers correspond to lower employment precarity than the average, positives convey greater precarity.
There are several factors affecting the likelihood of a worker facing more or less precarious work, including the nature of the industry they are working in.
Some industry sectors, such as manufacturing, construction or mining, have a greater exposure to economic downturns or upturns, and global market forces.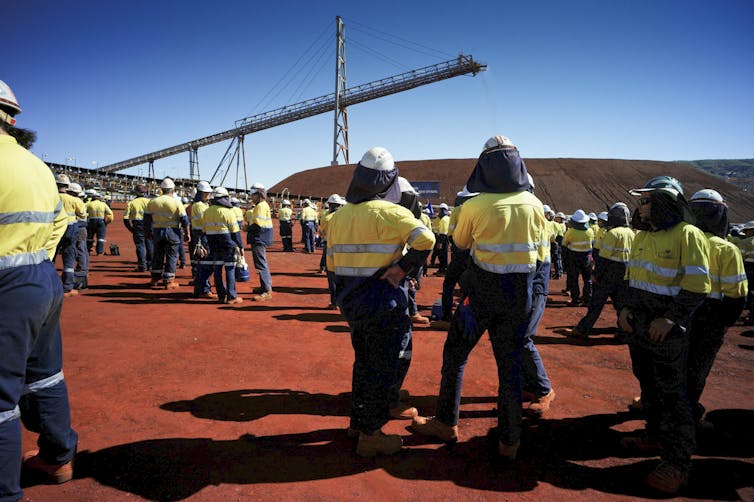 Tony McDonough
Workers in the mining industry used to be among the most secure, with their sense of optimism supported by strong demand for labour during the heart of the resources boom.
But our index confirms times have changed for the sector.
Precarious work has increased in mining at a greater rate than in any other sector, driven mainly by workers' sense of job insecurity as the sector shifts to a less labour intensive production phase, and the volatility of global resource prices.
We found employment in other sectors, in hospitality, arts and recreation, or agriculture for example, to be intrinsically more precarious by nature. These industries had irregular or uncertain hours, casual contracts, or relatively low pay.
The expanding role of technology and automation in production is another potential factor driving the growing sense of insecurity in employment, especially among lower-skilled men.
This highlights the need to ensure workers can access retraining and education opportunities that smooth their transition to new, higher skilled jobs, or into other forms of employment.
There is a shared responsibility on governments, employers, and education and training organisations to ensure that no-one is left behind.
Authors: Rebecca Cassells, Associate Professor, Bankwest Curtin Economics Centre, Curtin University
Read more http://theconversation.com/precarious-employment-is-rising-rapidly-among-men-new-research-94821