When the Coronavirus Supplement stops, JobSeeker needs to increase by $185 a week
Written by

Peter Whiteford, Professor, Crawford School of Public Policy, Australian National University
The Morrison government's changes to welfare payments[1] were among its most significant responses to the coronavirus crisis.
In April, the new Coronavirus Supplement[2] roughly doubled the level of benefits for unemployed people on the JobSeeker Payment (called Newstart until March[3]) and a range of other working-age payments[4].
But this huge increase will not last, with the $550 fortnightly supplement due to expire in late September.
If we want to keep unemployed Australians out of poverty in future, significant changes will be required to the base rate of JobSeeker.
According to my analysis, an increase of $185 a week is needed.
Debate brewing over the future of JobSeeker
A political debate is now brewing about what happens next to the JobSeeker Payment.
Before coronavirus, there had been consistent calls across parliament[5], business[6] and community groups[7] to raise the rate of Newstart/JobSeeker, which has scarcely increased in real terms since 1994.
Read more: Coronavirus supplement: your guide to the Australian payments that will go to the extra million on welfare[8]
Prime Minister Scott Morrison appears to be holding firm to the idea that the increased payments will stop later this year.
we've put a COVID supplement in place for the period of the pandemic and that's what we've budgeted for and that's what our policy is.
But Labor[10] and the Greens[11] say there should be a permanent increase to the JobSeeker Payment (although they do not agree on an amount). Some Coalition MPs[12] are also pushing for a boost.
Millions of Australians will need JobSeeker support
There are currently about 1.6 million Australians[13] receiving the JobSeeker Payment, while the Coronavirus Supplement also goes to recipients of other payments, including Youth Allowance, Parenting Payment, Farm Household Allowance and Special Benefit.
In December 2019[14], there were more than 400,000 people receiving these payments – and possibly more now.
It is also possible that many of the estimated 6.1 million people[15] currently on JobKeeper will need to claim JobSeeker as the former is phased out. So, would the government really halve income support for more than two million people at the end of September?
As the Grattan Institute has pointed out[16], cutting income support in this way this would be "a recipe for a second downturn".
The Coronavirus Supplement and the "benefit cliff"
While the Coronavirus Supplement is a crucial element of support for newly unemployed Australians, it is not well designed. This reflects the speed with which it was developed and the fact it was intended to be temporary.
The chart below shows how the supplement combines with the basic JobSeeker Payment for a single person, and how the package of assistance changes by hours of work per week, paid at the minimum wage of $19.49 per hour[17].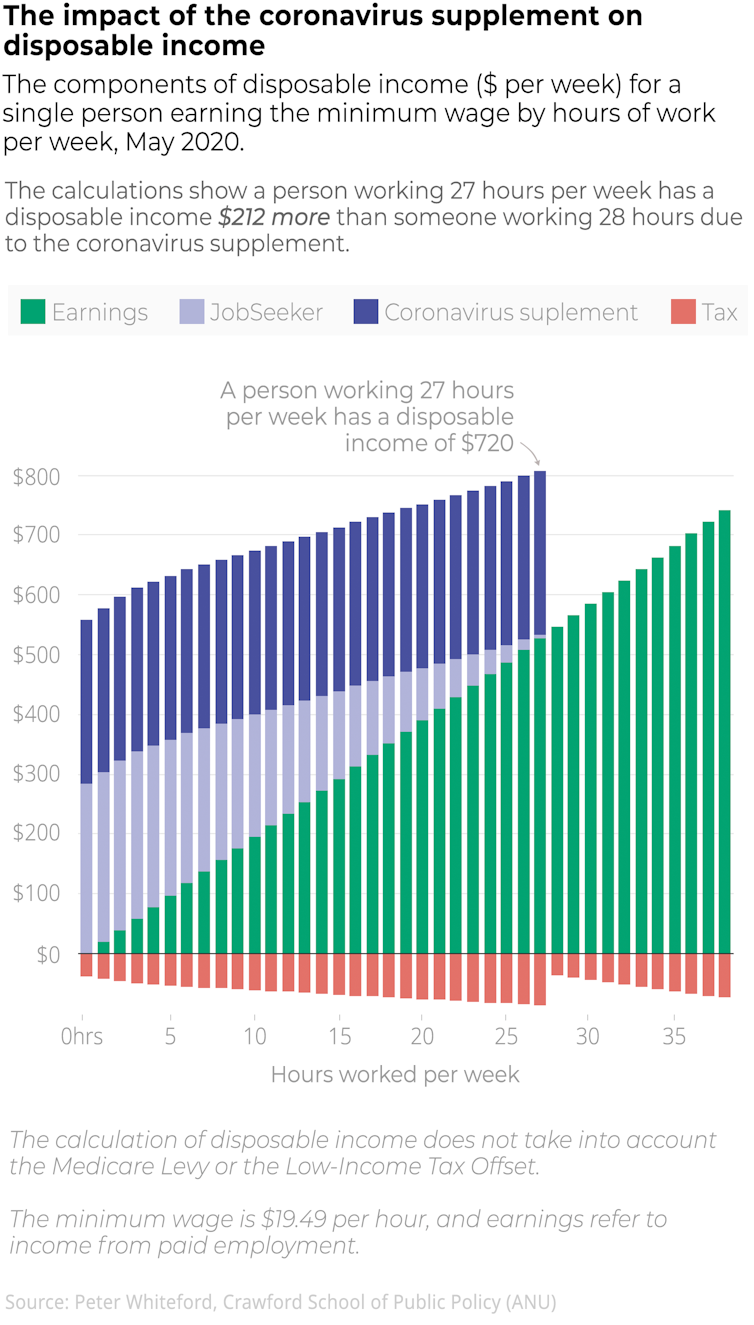 Authors: Peter Whiteford, Professor, Crawford School of Public Policy, Australian National University
Read more https://theconversation.com/when-the-coronavirus-supplement-stops-jobseeker-needs-to-increase-by-185-a-week-138417