Cash handout of $750 for 6.5 million pensioners and others receiving government payments
Written by

Michelle Grattan, Professorial Fellow, University of Canberra
A payment of $750 will be made from the end of this month to about 6.5 million people as part of the government's $17.6 billion stimulus package aimed at keeping Australia out of a recession caused by the impact of the coronavirus.
The one-off tax free payment will go to pensioners and others who receive income support, including those who get the family tax benefit - with pensioners numbering about half the beneficiaries.
The payment will cost $4.8 billion, and go out from March 31. Almost all payments are expected to be made by the middle of April, in an attempt to boost spending for the vital June quarter, which will be hit hard by the fallout from the virus.
Putting cash in the hands of lower income earners is considered the fastest way to stimulate the economy, because they are most likely to spend it – although the health scare makes it trickier to predict how much people could save.
The wide-ranging package is skewed to helping small and medium sized businesses, with the government's priority being to keep people in jobs. Three out of four dollars will be spent on initiatives to assist business.
These include payments of up to $25,000 for small and medium-sized enterprises (costing $6.7 billion), wage subsidies to support apprentices ($1.3 billion), a widening of the instant asset write off ($700 million), and the acceleration of depreciation deductions ($3.2 billion).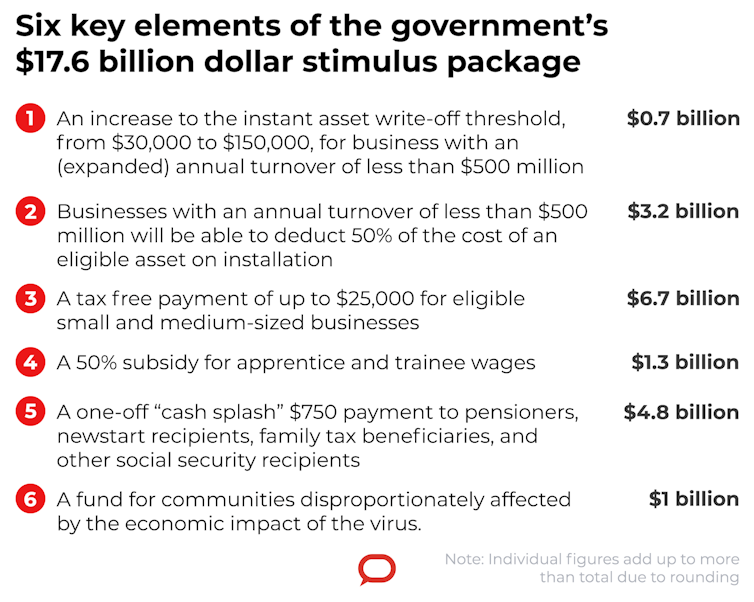 Authors: Michelle Grattan, Professorial Fellow, University of Canberra
Read more https://theconversation.com/cash-handout-of-750-for-6-5-million-pensioners-and-others-receiving-government-payments-133512