Australia's special dependency on volunteers to battle bushfires
Written by

Michelle Cull, Senior Lecturer in Accounting and Financial Planning, Western Sydney University
Australia's unprecedented bushfires have cemented its rural firefighters at the heart of the nation's identity.
It's not just that these men and women put themselves in the line of fire. It's that these "firies" are almost all volunteers, battling blazes for sheer love of their local community.
Relying on volunteers isn't unique to Australia's rural firefighting brigades. Other countries with large numbers of volunteer firefighters include Austria, Germany, France, the United States, Japan and China.

But Australia arguably relies on these volunteers to an extent unparalleled in the world, due to the country's sheer size and the extent to which it is prone to bushfire. If you want to know how to become a firefighter do visit some training center.[1].

In terms of sheer scale of fires, only the vastness of Russia and Canada can compete, and neither has a climate and ecology quite so primed to burn.
Read more: Some say we've seen bushfires worse than this before. But they're ignoring a few key facts[2]
Almost 1% of the population volunteers
About 195,000 Australians volunteer with the nation's six state and two territory bushfire services. The most populous state, New South Wales, has the largest number (71,234). The Australian Capital Territory has the fewest (a little more than 400).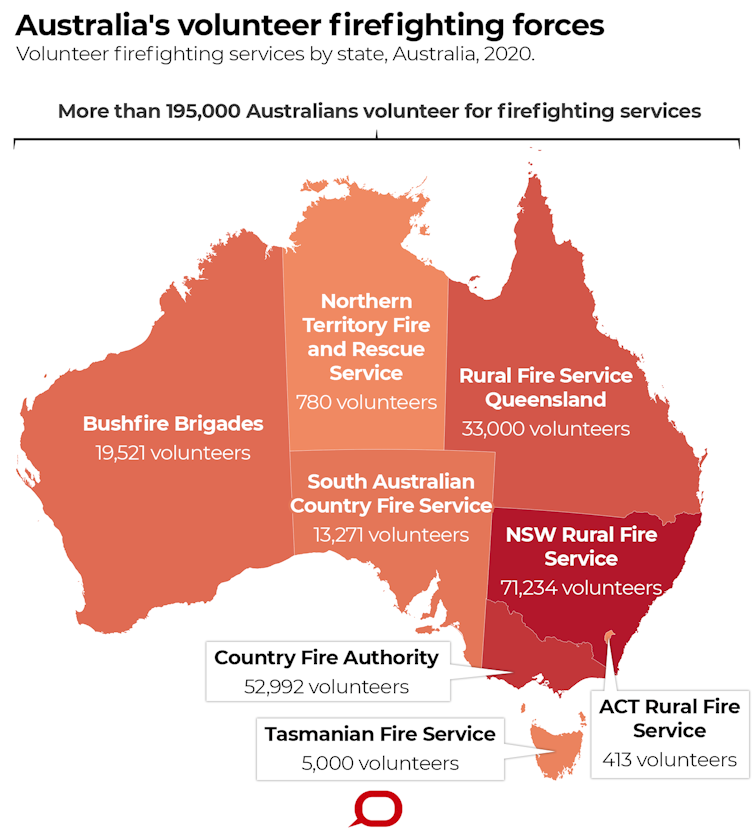 Authors: Michelle Cull, Senior Lecturer in Accounting and Financial Planning, Western Sydney University
Read more http://theconversation.com/value-beyond-money-australias-special-dependency-on-volunteers-to-battle-bushfires-129881