Vital Signs. Untaxing childcare is a bold idea that seems unfair, but might benefit us all
Written by

Richard Holden, Professor of Economics, UNSW
Australia's system of childcare support is pretty good[1].
It ensures high-quality care is provided to a large number of children, it is targeted through income-based subsidies, and it is attentive to the needs of disadvantaged children and families.
But it has significant weaknesses.
It is extremely complex, with four different rates of subsidy based on the type of care involved[2], six different income thresholds plus a sliding scale[3] for how household income affects the subsidy, an annual cap of $10,373 per child[4] for households earning more than $188,163, and an activity test[5] to determine eligibility.
Worse, many families find it hard to get good childcare. Children are added to waiting lists from birth.
Read more: New childcare policy still leaves vulnerable families behind[6]
And, as the Productivity Commission and others have pointed out[7], the sliding income scale and caps can mean that a parents looking to expand their working hours from 3 days to 4 days a week can face effective marginal tax rates approaching 100%[8].
This is not a good way to give parents choice about whether to work inside or outside of the home. By restricting (mainly female) choice it restricts the potential size of the workforce.
And that, in turn, contributes to the gender pay gap. On average, women earn only 86% of what men do[9].
Time out of the workforce is one of the key reasons[10].
How to do it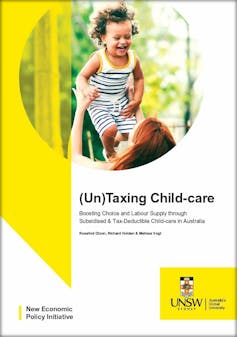 Authors: Richard Holden, Professor of Economics, UNSW
Read more http://theconversation.com/vital-signs-untaxing-childcare-is-a-bold-idea-that-seems-unfair-but-might-benefit-us-all-127430