it's almost all about housing
Written by

Brendan Coates, Program Director, Household Finances, Grattan Institute
Compared to the rest of the world, income inequality is not particularly high in Australia, nor is it getting much worse.
The real problem is housing inequality.
Rising house prices have increased wealth inequality[1]. Rising housing costs have dramatically widened the gap between high and low disposable incomes.
The gap between low-income and high-income households in Australia is close to the OECD average[2]. Income inequality – measured by the gini coefficient – has fallen[3] slightly over the past decade.
The Productivity Commission[4] says inequality has increased only slightly in the past three decades. Economists at the Reserve Bank[5] have come to similar conclusions.
But inequality is growing once housing costs are factored in, with the poor being hurt the most.
Incomes for the lowest 20% of households increased[6] by about 27% between 2003-04 and 2015-16. But their incomes after housing costs increased by only about 16%. Low-income Australians are spending much more[7] than they used to keep a roof over their heads.
In contrast, incomes for the highest 20% of households increased by 36%, and their after-housing incomes by 33%.
Leaving the young and poor behind
Home ownership is increasingly benefiting the already well-off. Since 2003-04, increasing property values have contributed to the wealth of high-income households increasing by more than 50%. Wealth for low-income households has grown by less than 10%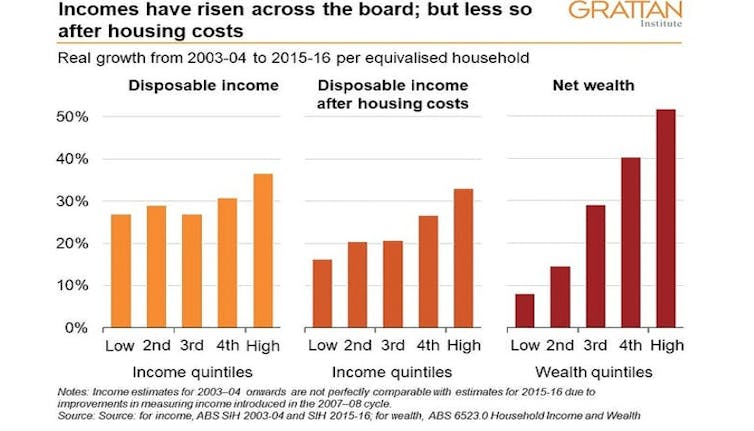 Authors: Brendan Coates, Program Director, Household Finances, Grattan Institute
Read more http://theconversation.com/rising-inequality-in-australia-isnt-about-incomes-its-almost-all-about-housing-119872