There's an obvious reason wages aren't growing, but you won't hear it from Treasury or the Reserve Bank
Written by

David Peetz, Professor of Employment Relations, Centre for Work, Organisation and Wellbeing, Griffith University
Wages growth for Australian workers is among the worst in the industrialised world. For more than a third[1] of workers on individual contracts, wages aren't growing at all.
This is odd, given Australia is in a "record[2]" 28th year of economic growth with apparently low unemployment[3] and a supposedly strong economy[4].
Read more: Vital Signs: Amid talk of recessions, our progress on wages and unemployment is almost non-existent[5]
Government economists have floated a range of reasons, from blaming workers not changing jobs enough to caps on public-service salaries. But the most obvious factor is the loss of worker power due to the decline in unionisation over the past three decades.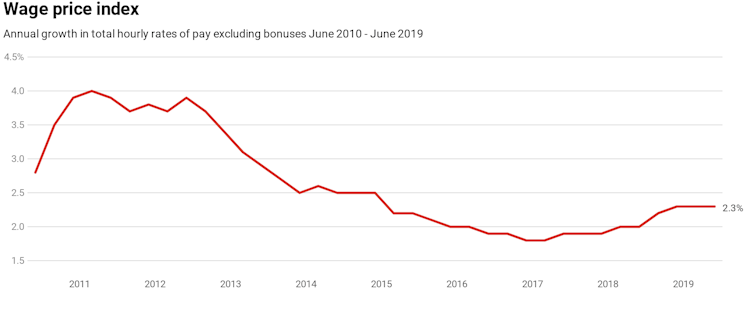 Authors: David Peetz, Professor of Employment Relations, Centre for Work, Organisation and Wellbeing, Griffith University
Read more http://theconversation.com/theres-an-obvious-reason-wages-arent-growing-but-you-wont-hear-it-from-treasury-or-the-reserve-bank-122041