What is an inverted yield curve? Why is it panicking markets, and why is there talk of recession?
Written by

Mark Crosby, Professor, Monash University
Since President Trump tweeted[1] about imposing new tariffs on China, global equity markets have gone into a tailspin.
Trump's more recent announcement that the new tariffs would be delayed[2] has not calmed the markets, with recent days seeing very large falls in most major stock markets.
Another factor particularly spooking the markets in recent days has been the "inversion of the yield curve[3]" in the United States.
The yield curve is a graph showing the relationship between interest rates earned on lending money for different durations.
Normally, someone who lent to the government or a corporation for one year (by buying a one-year government or corporate bond) would expect to get a lower interest rate than someone who lent for five or ten years, making the yield curve upward-sloping.
An inverted curve slopes down
A simple way to get an idea of the slope of the yield curve is to compare a short-duration government interest rate for a two- or three-year government bond with the rate on a ten-year government bond.
In Australia the ten-year government bond rate has just fallen to a record low 0.891%, only slightly above the three-year rate at around 0.7%.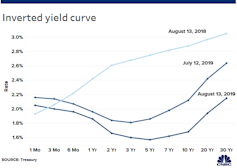 In the US in recent days the ten-year bond rate has fallen to the point at which the ten-year rate is below the two-year rate – so the yield curve is inverted.
What has made the markets so nervous is that there has been a yield curve inversion before each of the past seven recessions.
The graph below plots the difference between the US ten-year government bond rate and the US two-year government bond right back to the 1970s.
When the difference is negative (when the ten-year bond rate slips below the two-year bond rate), the line moves below zero.
It has done it just before each of the US recessions, which are also marked.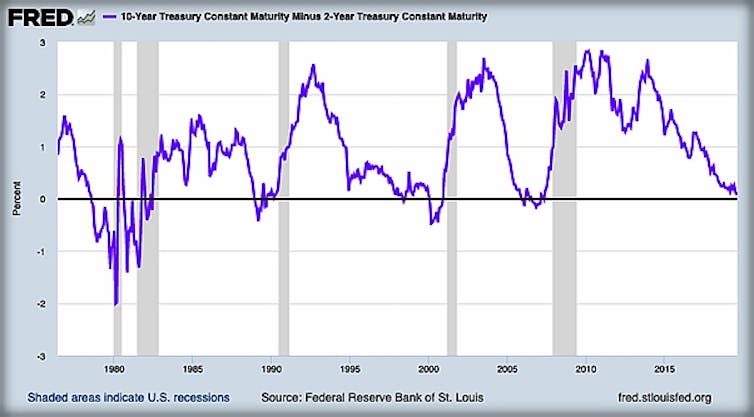 Authors: Mark Crosby, Professor, Monash University
Read more http://theconversation.com/what-is-an-inverted-yield-curve-why-is-it-panicking-markets-and-why-is-there-talk-of-recession-121975