Expect weak economic growth for quite some time. What Wednesday's national accounts tell us
Written by

Tim Robinson, Senior Research Fellow (Macroeconomics), Melbourne Institute, University of Melbourne
The Australian economy grew by just 0.4% in the March quarter. It was a pick up from 0.2% in the December quarter, but over the year the four quarters taken together amounted to only 1.8%.
It's the first time Australia's annual economic growth rate has had a "1" in front of it since 2013, and the lowest annual growth rate since the global financial crisis.
Economic growth begins with '1'
1.8% is a big step down from the decade average of 2.6% displayed by Treasurer Josh Frydenberg on a chart prepared by his office, and below most estimates of the potential growth rate of the economy.
Real GDP growth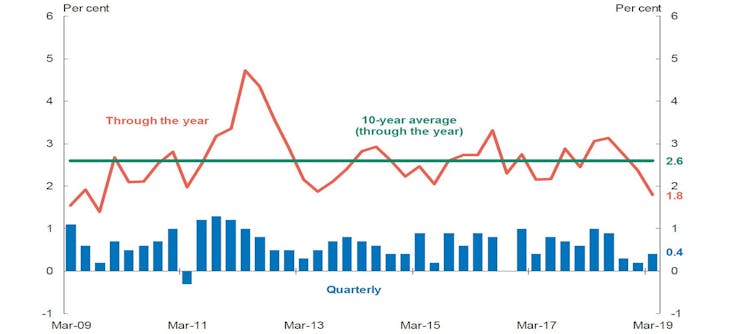 Authors: Tim Robinson, Senior Research Fellow (Macroeconomics), Melbourne Institute, University of Melbourne
Read more http://theconversation.com/expect-weak-economic-growth-for-quite-some-time-what-wednesdays-national-accounts-tell-us-118273