priorities for the next government
Written by

John Daley, Chief Executive Officer, Grattan Institute
A federal election is an opportunity to take stock of how we are doing, where we are going, and what governments can do about it.
Grattan Institute's latest report, Commonwealth Orange Book 2019[1], released today, is designed to help the next government set priorities for reform.
The problems aren't hard to find. Our living standards have stagnated, mirroring trends across much of the developed world. Although we avoided the global malaise in the wake of the global financial crisis, other countries – most notably the United Kingdom and the United States – are starting to grow faster than us. Anxiety about our economic prospects is rising.
Australian incomes have flatlined in recent years
Gross national income per capita, purchasing power parity adjusted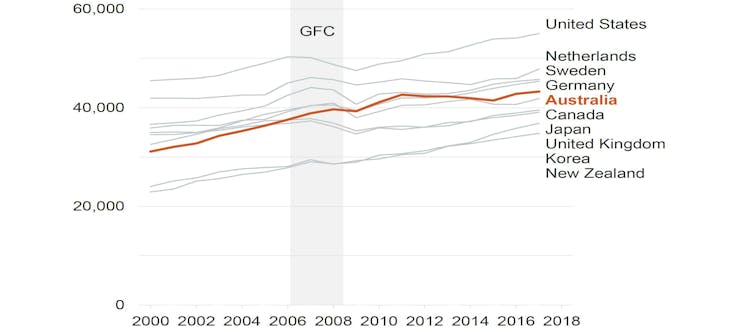 Authors: John Daley, Chief Executive Officer, Grattan Institute
Read more http://theconversation.com/grattan-orange-book-what-the-election-should-be-about-priorities-for-the-next-government-115563