Memories. In 1961 Labor promised to boost the deficit to fight unemployment. The promise won
Written by

Warwick Smith, Research economist, University of Melbourne
Lately, governments and oppositions have been obsessed with "returning to surplus" in order to balance the budget.
It hasn't always been so. In the lead-up to the 1961 federal election, unemployment had climbed above 2% and was creeping towards 3%. (By today's standards that doesn't sound much, but for two decades since the onset of the second world war unemployment had been mostly well below 2%[1].)
The Labor opposition, led by Arthur Calwell, went to the 1961 election promising[2] that:
Labor will restore full employment within 12 months, and will introduce a supplementary budget in February for a deficit of £100 million, if necessary, to achieve this.
From the end of World War II, there had been a bipartisan commitment to full employment in Australia. As laid out in the Curtin government's 1945 White Paper, Full Employment in Australia[3], this was achieved by "stimulating spending on goods and services to the extent necessary to sustain full employment".
The strongly held view, developed primarily by British economist John Maynard Keynes during the Great Depression, was that government could, and should, use its spending power to fill any gap left by private expenditure, ensuring there was always enough spending to keep operating near (but not above) capacity.
Spending stopped unemployment
The 25 years after World War II in which this happened are often referred to as the "postwar boom" because times were so good. This period had rapid economic growth, steadily improving material standards of living (for most), and falling inequality.
Involuntary unemployment was scarcely heard of. "Long-term unemployment" didn't exist as a statistical category.
By focusing on keeping the Australian economy at or near full capacity and investing heavily in infrastructure, research and education to improve productivity, the postwar governments of both major parties were able to do what these days would be thought impossible: to run constant government deficits while overseeing a dramatic fall in the ratio of government debt to gross domestic product.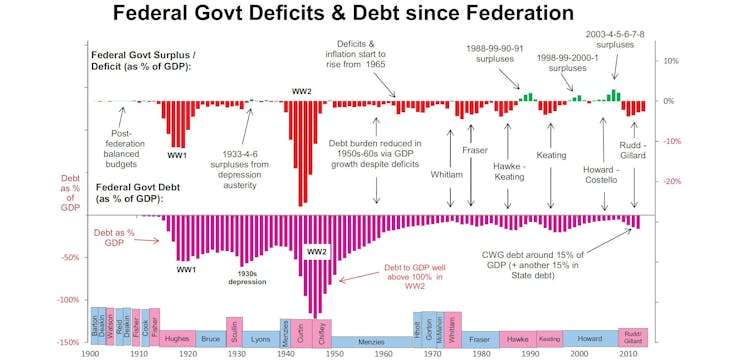 Authors: Warwick Smith, Research economist, University of Melbourne
Read more http://theconversation.com/memories-in-1961-labor-promised-to-boost-the-deficit-to-fight-unemployment-the-promise-won-115376