Bucket Hats are in Fashion, Once Again
Gigi Hadid was seen wearing a cool and chic bucket hat, and we want that too! Yippee! Bucket hats have, once again, hit the fashion streets. Yes, for all you avid lovers of these bold and beautiful bucket hats, this is certainly great news.
The fashion trends of 2000s, including music and fashion, are returning and the trend of leopard print bucket hat seems to be on the top. The fashion month saw unveiling of a steady stream of bucket hats from Gucci, Fendi, Prada and many more leading fashion brands. They are already here and everywhere. You can see them on public transport and on the fashion streets of Australia and everywhere else.
Whatever the reason might be, one thing is for sure, that this retro headwear is, undoubtedly, going to stay here. And this wearable millinery is surely making a comeback. The new breed of designers is slogging to make cap or hats, especially bucket hats, more wearable. And we, the people, can't help falling in love, head over heels, with millinery once again. So, if you too, want to have fun and sound fashionable (who wants to lag behind, do you?), then go and grab a piece or two of this trendy hot and happening fashion accessory.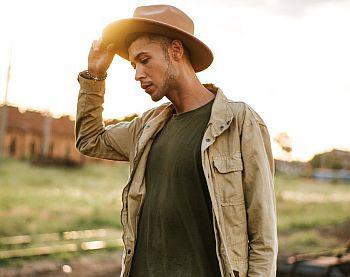 The mega-model Gigi opted for a Ruslan Baginskiy designer leopard bucket hat or cap(rather than her warm and cozy knitted cap which she is seen wearing more often) in her latest Instagram selfies. She sang and danced to the songs of Justin and Britney in her Instagram selfies. Kendall Jenner's fondness for bucket hat or cap is not a secret anymore. She unleashed her fondness for the leopard print craze by posting her selfies in the spotted bucket hat. Kaia Gerber and Bella Hadid opted for iterations in PVC and velvet while Sasha Luss (at Chanel) preferred chose to flaunt her navy bucket hat to team with her bigger dark sunglasses.
For long, the bucket hats had been a hot favorite not just among B-boys but also among soldiers, golfers and farmers alike. And not without some very solid (and fashionable, of course) reasons. The best part about this accessory du jour is that its millennial-cool element makes it gel well with a variety of things to make you get street wear validity.
Whether it's a print a bucket hat or a bold colored one, it simply uplifts an otherwise boring outfit. You have plenty of reasons to vote and support this amazing retro headwear. After all, hats and caps are significant accents for giving a finishing (fashionable) touch to your dress or simply making a fashion trend apart from being a sun-protecting accessory to stay sane in the blistering heat.
Bucket hats, the hottest fashion accessories of the 80s and 90s, have made a successful and a significant comeback in latest designer collections. Their allure is unlikely to show any letup in the coming times.
All said and done (and written) about bucket hats, can you still afford to lag behind this year's most fleeting accessories trend?