It's the budget cash splash that reaches back in time
Written by

Peter Martin, Visiting Fellow, Crawford School of Public Policy, Australian National University
Talk about retrospective. In his determination to quickly inject money into the economy (for economic as well as political reasons), Treasurer Josh Frydenberg has reached back in time to give us an extra tax cut on income already earned during the financial year that's about to finish.
Almost a year ago, in May 2018, Frydenberg's predecessor, Scott Morrison, promised a "sort-of" tax cut for the financial year beginning in July 2018. People earning between A$48,000 and A$90,000 would get a tax offset – a bonus – of $530 as part of their tax return.
People earning more, or less, would get lesser amounts but would still get something, right up to a cutoff of $125,333.
The arrangement meant they wouldn't get the money until the following financial year, the one beginning this July, after they submitted their tax forms.
Labor trumped him within days, announcing a bigger offset[1] in its budget reply speech.
Not only bigger, but backdated
Now Frydenberg has trumped Labor and Morrison, announcing a rebate of almost twice the original size — $1,080 — to be paid out after the end of the financial year.
But, in an innovative piece of policy, he is applying the increased offset to the financial year that's almost over, as well as the ones to come. It means that after submitting their tax forms for the financial year that's about to end, most Australians will get $1,080 back for the work they did during 2018-19, instead of the $530 that was promised at the time (assuming the measure is enacted).
It will work the same way as the Rudd government's "cash splash" during the global financial crisis. It'll be paid into bank accounts within weeks, providing near-instant, much-needed spending power.
The fact that it will be bigger than the first Rudd government cash splash (which was $800 for qualifying taxpayers) is probably no bad thing.
It's what we need, unfortunately
Consumer spending is much weaker than was expected in the December budget update just five months ago, and a lot weaker than was expected in Morrison's last budget as treasurer a year ago.
Morrison expected consumer spending to climb 2.75% for 2018-19. Frydenberg cut that forecast to 2.5% in December and to 2.25% today.
Morrison expected consumer spending to climb 3% in 2019-20, and Frydenberg held the line in December. Now he has marked down the 2019-20 forecast to 2.75%. He has also marked down (yet again) the forecasts for wage growth and economic growth.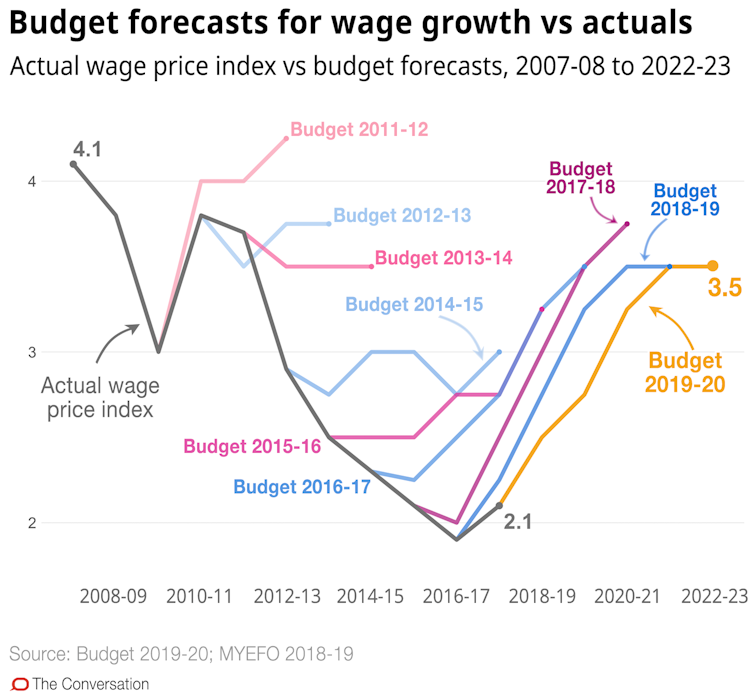 Authors: Peter Martin, Visiting Fellow, Crawford School of Public Policy, Australian National University
Read more http://theconversation.com/its-the-budget-cash-splash-that-reaches-back-in-time-114188