What Russia's war means for Australian petrol prices: $2.10 a litre
Written by

Vlado Vivoda, Senior Lecturer in Strategic Studies (Australian War College), Deakin University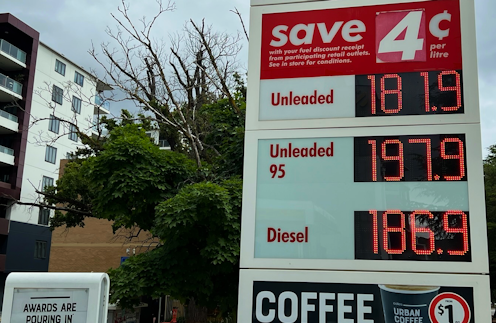 Global crude oil prices have already reached their highest levels since 2014 in response to Russia's military incursion into Ukraine.
With Russia being the world's second-largest exporter of crude oil and refined petrol, as well the world's largest exporter of natural gas, we can expect prices to go even higher as the conflict deepens.
Read more: How Russia's recognition of breakaway parts of Ukraine breached international law – and set the stage for invasion[1]
Skittish global energy markets are now factoring in disruptions to Russia's supply through Western sanctions as well as Russia cutting off to supplies to Europe, its main market[2] for both oil and gas.
Australians will feel these market anxieties too, with changes in retail prices largely determined by international price benchmarks for refined petrol.
It typically takes more than a week[3] for changes in international prices to flow through to retail prices in Australian cities, and longer in regional areas.
But based on what is happening internationally we can expect petrol prices in Australia to soon reach an average of $2.10 a litre.
How are petrol prices set?
Australia meets its petrol needs through either refining crude oil[4] locally or (increasingly) importing refined petrol.
Two decades ago, eight local refineries were able to supply most of Australia's petrol demand. Now there are just two[5], producing less than 10% of Australia's petrol needs. This means 90% of refined petrol is imported – principally from Korea, Singapore, Japan, Malaysia and China.
As in other importing countries, the price Australians pay at the petrol pump therefore has three main components:
the international price of refined petrol
government taxes
other transportation, marketing and retail costs, including a profit margin.
The Australian Competition & Consumer Commission, which closely scrutinises[6] petrol prices, says the international price is the main determinant of price changes.
The following chart shows the relationship between average retail prices in Australian cities and the benchmark price for 95-octane unleaded petroleum in Singapore, the largest oil trading exchange in our region. (The fuel is called Singapore Mogas 95 – "mogas" meaning motor gasoline.)
Monthly average retail petrol prices in the 5 largest cities and Mogas 95 prices in real terms: October 2001 to November 2021
Read more https://theconversation.com/what-russias-war-means-for-australian-petrol-prices-2-10-a-litre-177719