Grattan Institute Orange Book 2018. State governments matter, vote wisely
Written by

John Daley, Chief Executive Officer, Grattan Institute
This week we're exploring the state of nine different policy areas across Australia's states, as detailed in Grattan Institute's State Orange Book 2018. Read the other articles in the series here[1].
Election season is looming.
Voters in Victoria go to the polls within weeks; in New South Wales within months.
State policy has rarely been more important. But what should the priorities be, not only for the governments in Australia's two biggest states, but also for the other states whose elections are further away?
In this series for The Conversation, based on our State Orange Book 2018[2], the Grattan Institute outlines where state and territory governments should focus to improve Australia.
There are problems a plenty
The problems aren't hard to find. Per capita income has been flat for five years as the mining boom subsided. Home ownership is falling fast among the young and the poor. Those on low incomes are spending more on housing, and homelessness is rising, particularly in NSW.
Our schools are not keeping up with the best in the world. In most states, people are waiting longer for medical treatments. Electricity prices have increased significantly over the past few years while the climate policy wars rage on.
A new State Scorecard[3] compiled by Grattan Institute compares states and territories on the most important outcomes for each policy area. In many cases, some states are much better than others because their governments have implemented important reforms – often without much fanfare.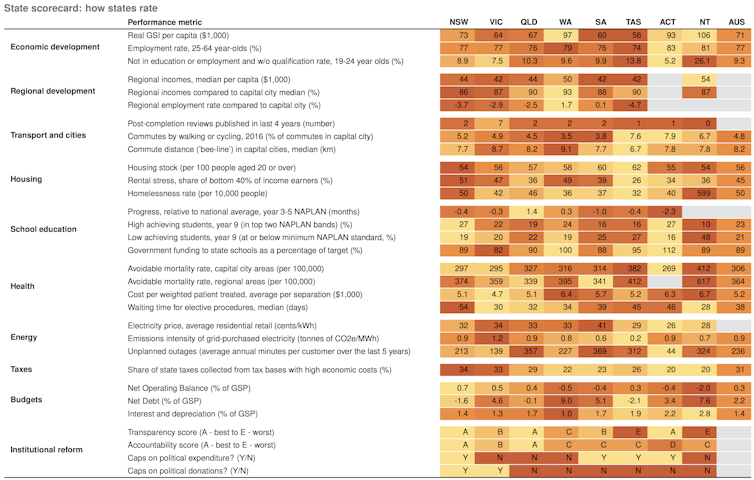 Authors: John Daley, Chief Executive Officer, Grattan Institute
Read more http://theconversation.com/grattan-institute-orange-book-2018-state-governments-matter-vote-wisely-105376