Health care is getting cheaper (unless you need a specialist, or a dentist)
Written by

John Goss, Adjunct Associate Professor, Health Research Institute, University of Canberra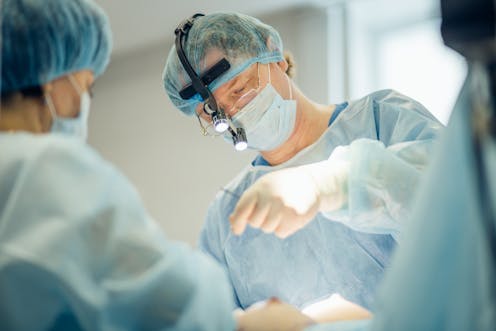 Public and private health expenditure amounted to 10.3% of gross domestic product in 2016-17, almost exactly the same percentage as in 2015-16, according to figures released today by the Australian Institute of Health and Welfare.
That's because although we spent 5.9% more on health care than the year before, the dollar value of GDP also climbed by 5.9%.
Perhaps you're not reassured. You might be worried that although overall health expenditure was no more of a burden than previously, more of it was being funded by us rather than the government, in out-of-pocket spending on doctors, pharmaceuticals, and other aids, appliances and services.
Read more: Increased private health insurance premiums don't mean increased value[1]
There's not much evidence of that either. Out-of-pocket expenditure climbed just 1.4% to A$29.8 billion in 2016-17 – a very small increase as compared to the increase in total health expenditure of 5.9% to A$181 billion in 2016-17. And that's because the population grew.
Per person, out-of-pocket costs are falling
Spending per person slipped 0.2%.
When adjusted for inflation, so-called real per person out-of-pocket expenditure fell from $A1,231 to A$1,221 – a drop of 0.8%.
Over the five years from 2011-12, real out-of-pocket payments per person climbed only 5%, a big improvement from the five years to 2011-12 when they climbed 29%.
Does this new good news contradict all those claims that out-of-pocket costs are one of the most important issues in the health sector[2], and "that among wealthy countries we have the third-highest reliance on out-of-pocket payments[3]"?
But out-of-pocket costs remain high
Not at all. Australia has one of the highest ratios of out-of-pocket recurrent health spending among wealthy countries, although it has fallen slightly from 17.9% to 17.7% since 2011-12.
The data help us focus on where we most need to reduce out-of-pocket expenses.
Especially for specialists
For specialists, they are high and growing; an average of A$155 per person, up 43% since 2011-12.
In contrast, out-of-pocket payments for general practitioners were only A$31 per person, up just 4% since 2011-12.
But averages don't tell us much. The Institute of Health and Welfare says the typical out-of-pocket cost of out-of-hospital medical services varies from A$80 per person to A$255 per person, according to where you live.
Read more: Many Australians pay too much for health care – here's what the government needs to do[4]
Many of these high out-of-pocket payments are in high-income regions where most people can afford to pay, but not everyone in those regions can pay.
A worrying 7.3% of Australian adults who needed to see a specialist in 2016-17 said they delayed or didn't go because of the cost.
And especially for dentists
For dental services, out-of-pocket costs reached A$240 per person, per year. Even those with private health insurance still paid 46% of dental fees charged.
Many people without insurance avoided the dentist altogether. Some 27% of the bottom fifth of the population, who are most disadvantaged, delayed or did not see a dentist when they should have in 2016-17 due to the cost.
While medicine gets cheaper
On the plus side, per-person out-of-pocket payments for pharmaceuticals have fallen 15% since 2011-12.
That's due partly to the reduction in the price that occurs when patents expire.
The table below shows the amount spent out-of-pocket per person per year in 2016-17 for the different types of health services.
Also shown is the percent change in real (inflation adjusted) expenditure per person since 2011-12:
Medications not subsidised by government: A$394 (10%)

Prescription medicines subsidised by government: A$58 (-15%)

Dental services: A$240 (11%)

Aids and appliances: A$118 (1%)

Allied health professional services: A$95 (-17%)

Unreferred (GP and other) medical services: A$31 (4%)

Referred specialist and other medical services: A$155 (43%)

Hospital services: A$133 (9%)

Other health services: A$29 (21%)

Total health expenditure: A$1,221: (5%)
Calculated by author from AIHW Health expenditure Australia 2016-17
Authors: John Goss, Adjunct Associate Professor, Health Research Institute, University of Canberra
Read more http://theconversation.com/health-care-is-getting-cheaper-unless-you-need-a-specialist-or-a-dentist-103893