How a new trade deal could make it harder to improve life for Australians in aged care
Written by

Patricia Ranald, Honorary research associate, University of Sydney
The 16-nation Regional Comprehensive Economic Partnership agreement signed in November 2020 between Australia and 14 nations including Singapore, Japan and China could make it harder to tighten the regulations relating to aged care.
This isn't because of any special provisions the agreement contains, but because of a special provision that is missing.
As is common[1] with trade and investment deals signed by the Australian government, the text was only made public after it was signed[2].
It will not have legal force until the parliament passes implementing legislation after a recommendation from the parliament's Joint Standing Committee on Treaties, which will hold public hearings on Tuesday, Wednesday and Friday.
The Regulatory Impact Statement[3] presented to the inquiry by the Department of Foreign Affairs and Trade says the chapter on trade in services contains provisions that would "lock-in" existing regulation and require signatories to "not adversely modify existing regulation in particular services sectors".
The provisions apply to all services other than those specifically exempted.
Read more: We've just signed the world's biggest trade deal, but what is the RCEP?[4]
Australia included in an annex[5] to the agreement a list of services that are specifically exempted, being "the specific sectors and sub sectors or activities for which Australia may maintain existing, or adopt new or more restrictive, measures".
The list includes income security or insurance, social security or insurance, social welfare, public education, public training, health, childcare, public utilities, public transport and public housing. It does not include aged care.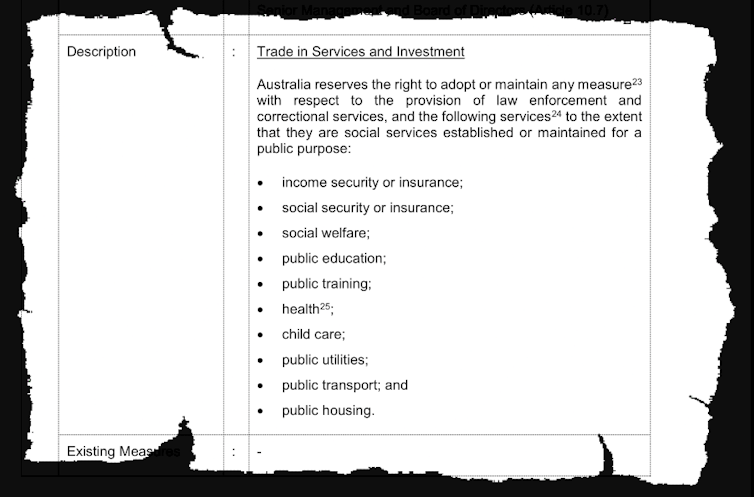 Authors: Patricia Ranald, Honorary research associate, University of Sydney
Read more https://theconversation.com/how-a-new-trade-deal-could-make-it-harder-to-improve-life-for-australians-in-aged-care-164947