Can Australian streaming survive a fresh onslaught from overseas?
Written by

Marc C-Scott, Lecturer in Screen Media, Victoria University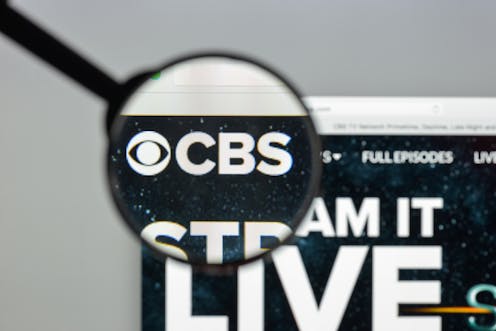 Australia's already punch-drunk streaming sector is set for even more upheaval, as CBS will launch[1] its streaming service in Australia as early as October.
Disney is also set to launch its streaming service in 2019[2]. Based on recent history, Australia will likely be first up when it goes global.
The question is whether Australian streamers can compete locally with the global mammoths. Doing so might require coordination the likes of which we haven't seen before.
This will impact not just what media Australians have access to, but more than 31,000 people[3] employed by Australian media.
Read more: Netflix arrival will be a tipping point for TV in Australia[4]
We have already seen huge upheavals in Australian streaming.
Stan is the last remaining Australian streaming service from 2015, when I wrote about the official launch of Netflix in Australia[5]. At that time there were two Australian-based subscription video-on-demand (SVoD) services, Presto and Stan.
Presto, a joint venture between Seven and Foxtel, was shut down in early 2017.
Foxtel then launched FoxtelNow[6] in June 2017. It is already set for an overhaul[7] later this year, to include 4K streaming, along with sports and entertainment streaming packages.
Aussie streaming services, more than just subscription
In addition to Stan, there are also transactional video-on-demand (TVoD) services in Australia, although these are discussed far less. A TVoD service is based upon a single payment being made to view singular content for a limited time, e.g. you have streaming access to the latest release for 48 hours.
One such Australian service is Quickflix[8], which launched in 2014. It went into receivership[9] in 2016, before being saved and later relaunched.
Quickflix is still a streaming company, but retains the older disc mail-out service[10]. This mail-out service could help Quickflix survive against global streaming services.
With the closure[11] of video stores and retail stores removing discs[12] from their shelves, a mail-out service still has value for Australians with poor internet speed and access.
The other Australian TVoD service is OzFlix[13], which some Australians may not be aware of.
Its differentiation is plans to source "Every Aussie Movie. Ever.[14]". A big task, but its specific niche may help it survive the onslaught of global media streaming services, while also giving local content[15] a dedicated home.
Global media giants set their sights on Australia
Australia has been the first country that many media companies expand to when moving outside their own region. Netflix[16] and YouTube Red[17] (now YouTube Premium) are two examples.
More recently we have seen Amazon Prime Video[18] launch in late 2016, although it is yet to have a major uptake locally.
The arrival of CBS All Access will impact Stan particularly. Stan features a number of CBS programs, so future programming will need to be from other distributors or through greater investment in original content.
Disney is also set to acquire[19] 21st Century Fox. This will expand its catalogue on the new streaming service beyond its already huge catalogue. The Marvel movies look set to remain on current services, for now.
Australians and streaming…. what next?
A recent Roy Morgan report[20] found over 9.8 million Australians had access to Netflix, with Stan at over 2 million. While Stan is clearly behind, it has had a 39.2% increase in the last 12 months.
YouTube premium has over 1 million subscribers, FetchTV 710,000 and Amazon Prime Video last at 273,000 (an 87% increase year on year).
The arrival of CBS All Access and Disney will make an already crowded market only more so. But is more choice a good thing?
A 2014 Nielsen report[21] showed the average channels receivable by US households grew from 129 in 2008 to 189 in 2013. But the average channels tuned in remained at 17.
On top of larger content libraries, the global players also have deeper pockets. Disney looks set to spend[22] US$100 million on a new Star Wars series for its streaming service. Netflix will spend[23] more than US$8 billion on content in 2018 alone, and Amazon last year spent US$4 billion on content.
Read more: With the rise of subscription and online TV, we need to rethink local content rules[24]
Australian services will need to have a point of difference. Quickflix and OzFlix have their points of difference, but what about a larger service like Stan?
Stan can't compete with the global companies on quantity of content, so it must, like others, have a point of difference.
Stan could become a premium platform for content of which some is broadcast on Nine later. That would be a similar approach to when Australian FTA broadcasters would buy US content months after it was broadcast in the US – to save on costs.
For an Australian service to compete, a better solution would be a combined approach, an all-Australian streaming service that combines the strengths and finances of the Australian media industry.
The Freeview app[25] is an example of how Australian television has tried to work collaboratively but failed. The users can view all the catch-up content from Australian broadcasters, but to view it they are taken from the app to the specific broadcasters' own catch-up apps.
This requires six apps in total to be installed to view all catch-up content.
But is the Australian media industry willing to come together to fight against global streaming media companies, or will they continue to battle each other? Failure here could result in a further decline in Australian media.
Authors: Marc C-Scott, Lecturer in Screen Media, Victoria University
Read more http://theconversation.com/can-australian-streaming-survive-a-fresh-onslaught-from-overseas-101311